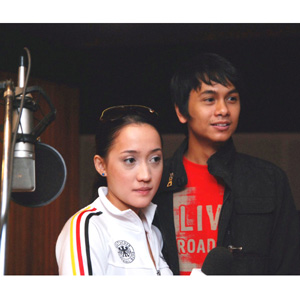 ---

Join Joe, Nick and Kevin—popularly known as the JonasBrothers—and Disney newcomer Demi Lovato as they rock out this cold season inthe hottest camp to hit Disney Channel and music airwaves.
MCA Music Inc.together with Walt Disney Records is proud to present the original soundtrackof Camp Rock, the hottest TV movie that talks about how music brings outthe best in everyone without trying hard to be someone else.


The plot thickenswith a conflict that contains a lie, a love team, the usual mean girl and thetrue meaning of friendship and acceptance, all heightened with music that setsthe right mood for the perfect scene. Also, be captivated with unforgettableproduction numbers featuring the biggest teen stars like The Jonas Brothers.


It's no surprise that this Disney movie is once again graced by aFilipina in the person of Anna Maria Perez de Tagle, the granddaughter ofveteran operatic singer Sylvia La Torre. Anna Maria is one of the sweet butspicy minions of Tess Tyler and Roshan Fagan, the hip-hopping, breakdancingcamper in the movie.
Though many have grown to love the Disney way of makingsongs suited for classic hopefuls and upcoming teen aspirants, Camp Rockserve to be more diverse this time around. The iridescent presence of the JonasBrothers infuses a pop rock feel with "Play My Music" and brings the perfectfollower for their previous love song, "When You Look Me In the Eyes" with "IGotta Find You."

This is also a perfect preview for the new kind of sound that the JonasBrothers possess as they are also set to release their new album, A LittleBit Longer, this season. New comer Demi Lovato on the other hand rocks itout with the movie-opener "Who Will I Be" and "Our Time Is Here." The CampRock OST also contains dance and hip-hop tracks like "Too Cool," "Start theParty," and "Hasta La Vista" that features Fil-Am Disney stars Anna Maria Perezde Tagle and Roshan Fagan.
ADVERTISEMENT - CONTINUE READING BELOW

Yet much anticipation should be credited to the carrier hit "This Is Me," apowerful duet with Joe Jonas and Demi Lovato. "This Is Me" has been picked byradio stations and has started acquiring seats in music charts across theMetro. It is just right then for this pop hit to have a localversion that showcases two of MCA Music Inc.'s finest stars.
The Camp RockOST also features the acoustic version of "This Is Me" sung by OPM's soulchild Julianne and a bigger, stronger and edgier Miguel Escuetawho has also recently released a repackaged version of his top-selling albumtitled I.Am.ME:Amplified.
Visit Odyssey, Astrovision, Music One and Fully Bookedstores and grab a copy of either the single CD Camp Rock album or the CD andDVD edition of this soundtrack both inclusive of limited Camp Rockgoodies. The Original Soundtrack of the hottest Disney TV movie, Camp Rockis brought to the Philippines by the newest licensee of Walt Disney Records andHollywood Records, MCA Music Inc.
Disney Channel's original movie,
Camp Rock
,will premiere on September 7 at 7:30 pm, featuring the Jonas Brothers.