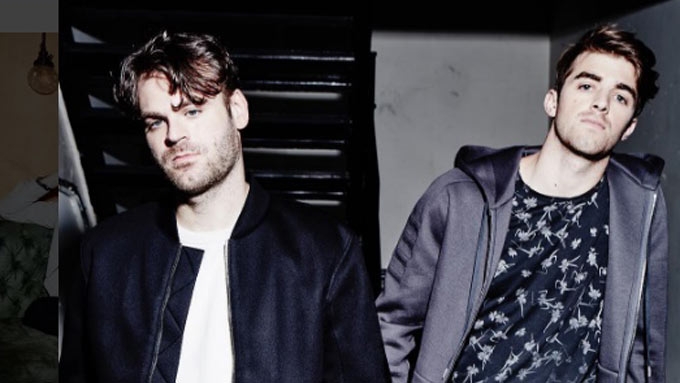 ---

The American DJ duo The Chainsmokers will perform in Manila for their Filipino fans on August 19, 2016.

EDM DJs Andrew Taggart and Alex Pall, more famously known as The Chainsmokers, will hold their Philippine concert at the SM Mall of Asia Arena in Pasay City.

Tickets to The Chainsmokers Live in Manila are now available at all SM Tickets outlets, www.smtickets.com or call Tel. No. 470-2222.

This will be their second time to perform in the Philippines, their follow-up to their first visit that took place in June 2014 when they were just starting out.

Billboard included The Chainsmokers in its list of 14 Most Powerful Artists in Dance Music published in June 2016.
The description about the EDM DJ duo goes: "Jokey 2014 track "#Selfie," this New York duo's debut single, prompted many to write the pair off as a novelty act. Instead The Chainsmokershave become one of 2016's biggest breakouts, proving their status as hitmakers with "Roses" and "Don't Let Me Down," which cracked the top 10 on the Hot 100 (it's No. 5 on the June 18 chart) and has ruled Hot Dance/Electronic Songs for seven weeks."
In February, the duo released the single "Don't Let Me Down," featuring vocals from Daya. The song peaked at No. 3 on the U.S Billboard Hot 100, becoming their highest charting single to date in the U.S.
(To learn more about concert, read: The Chainsmokers to hold Manila concert this August)
Here are some songs that we hope The Chainsmokers will perform during their Manila concert on August 19:
#SELFIE
"#Selfie" is one of their first songs and also one of their most famous hits. Having the chance to hear this song will help fans reminisce about the origins of The Chainsmokers. This song entered the Billboard Dance/Electronic Songs chart at No. 19 according to Nielsen SoundScan with their first week's sales of 9,000 digital downloads. The following week, they sold another 53,000.

While watching the official music video, keep your eyes peeled for the appearance of Baywatch actor David Hasselhoff!







ADVERTISEMENT - CONTINUE READING BELOW
Roses
With its official music video racking up 61 million views on Youtube, "Roses" can be considered one of their most successful hits. We're predicting fans would scream and jump if they heard just the opening of this song. Sing it with us: "Say you'll never let me go."



Don't Let Me Down feat. Daya

Don't Let Me Down featuring Daya was written by Taggart in cooperation with two other writers. The crowd will go wild when they hear this song, especially since it is enjoying heavy rotation on the radio and in music streaming sites. Nothing beats hearing the song live, especially for fans who allowed the official music video register 117 million views on YouTube. With its catchy beat and meaningful lyrics, its easy to see why it can be a crowd favorite.






Kanye feat. SirenXX
"Kanye" was released last 2014 and it was their second single after "#Selfie." Alex Pall and Andrew Taggart made the track using Siren's vocals and it was a song to highlight self-empowerment. Part of the lyrics go, "I wanna be like Kanye, I'll be the King of me always" and this song can provide a good balance to their set list. Sometimes it's okay to have some subtle beats while still dancing to a good song.





Inside Out feat. Charlee
"Inside Out" released last April 2016 is their follow-up single after their hit song "Don't Let Me Down" that was released last February 2016. The song showcases their versatility, which a lot of fans can appreciate. The song peaked at No. 13 on the Billboard Hot Dance/Electronic Songs chart.






Closer
The Chainsmokers played "Closer" live at Coachella 2016. This song is yet to have a digital release and it would be awesome if Pinoys can hear this live during their August 19 concert in the Philippines. The song has a cool vibe that makes it addicting to listen to. People would surely move to the music when the chorus comes up as it combines synthpop and awesome beats to make a dance-worthy tune.




ADVERTISEMENT - CONTINUE READING BELOW