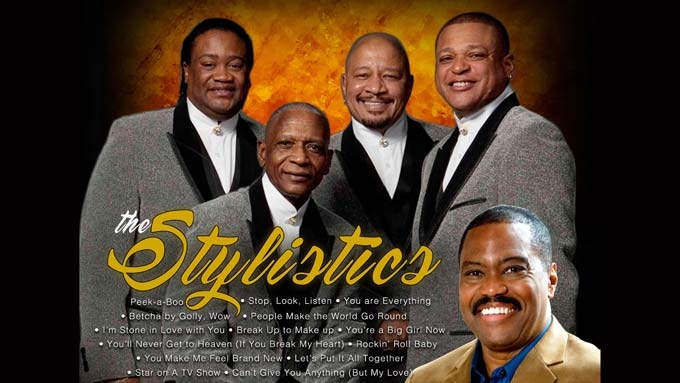 ---

The smooth and sweet sound of one of the most successful soul vocal groups of the 1970s will fill the Smart Araneta Coliseum when The Stylistics returns for a one-night concert on August 14 (Sunday).
The double bill dubbed The Stylistics with The Main Ingredient featuring Cuba Gooding Jr. Live In Manila is to be mounted by Ovation Productions.
The Stylistics, a frequent Manila visitor , will enthrall Filipino fans with classic soul hits such as "Stop, Look, Listen," "You Are Everything," "Betcha By Golly, Wow," "People Make The World Go Round," "I'm Stone In Love With You," "Break Up To Make Up", and "You Make Me Feel Brand New."
The Main Ingredient became known for its biggest hits, "Everybody Plays The Fool" and "Just Don't Want To Be Lonely," "Girl Blue", "I'm So Proud", "Spinning Around", "Who Can I Turn To."

Cuba Gooding Jr. himself attained international success in his brief solo career for "Happiness Is Just Around The Bend."
The Stylistics was formed in 1968 from two soul groups from Philadelphia, The Monarchs and The Percussions. The group first attracted attention when its single, "You're A Big Girl Now," released in 1970 under Sebring Records, became a regional hit and eventually climbed to No. 7.
After signing to Avco Records in 1971 and with Thom Bell as producer, The Stylistics became the leading Philly soul group of the early '70s. It scored 12 straight Top Ten hits, including "You Are Everything," "Betcha By Golly, Wow," "I'm Stone In Love With You," "Break Up To Make Up" and "You Make Me Feel Brand New."
Acclaimed as one of the smoothest and sweetest soul groups of the era, all of The Stylistics' hits were ballads distinguished by the group's soaring falsetto vocals of Russell Thompkins, Jr. (formerly of The Monarchs) and the lush yet graceful production of Bell--a perfect combination that contributed in making The Stylistics one of the most successful soul groups of the first half of the '70s.
ADVERTISEMENT - CONTINUE READING BELOW
The Stylistics made Billboard Magazine's Easy Listening singles chart 12 consecutive times from 1971 to 1976, with three entries ("Betcha By Golly, Wow," "You Make Me Feel Brand New" and "You'll Never Get To Heaven [If You Break My Heart]") reaching the Top 10.
The sensational soul group enjoyed immense popularity in Europe, particularly in Great Britain, where "Sing Baby Sing" (1975), "Na Na Is The Saddest Word" (1975), "Can't Give You Anything" (1975) and "Can't Help Falling In Love" (1976) were all Top Five hits.
It continued to tour and record throughout the latter half of the '70s until the early '80s when several of its members left the group for various reasons. The remaining Stylistics performed as a trio on oldies shows until the '90s. In 2004, Thompkins launched his own group called The New Stylistics.
The present group is composed of Airrion Love (1968-present), Herb Murrell (1968-present), Eban Brown (2000-present) and Jason Sharp (2011-present).

Tickets are priced at P4755, P4225, P3170, P2115, P1060 and are available at all regular Ticketnet outlets and online through www.Ticketnet.com