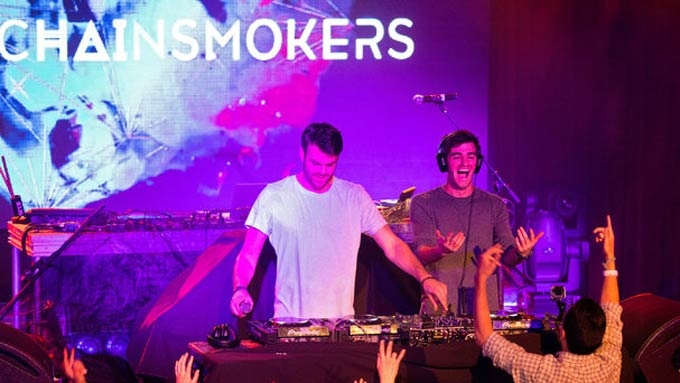 ---

From ground-breaking performances, to their wild acts, and now a world tour running, Andrew Taggart and Alex Pall have been storming each country with their addicting productions.

More popularly known as EDM DJ duo The Chainsmokers, they are expected to perform in the Philippines on August 19, 2016.

But before we see these two gents live at the MOA Concert Grounds, here are a few trivial facts about their tracks and their background.


The Chainsmokers have a unique pre-performance ritual
Before getting onto the stage, some artists have vocal warm ups and some sweat it out, but for this duo, it's a different scenario. Imagine them having a few drinks (or a lot in a number of shows) before they turn the stage upside down, or punch each other in the face just to hype the party monsters in them. They also drown themselves with either steak or espressos to turn their bodies up for a massive and unforgettable moment upstage!



The name "Chainsmokers" seemed clever
Their name didn't actually have any historical background or any sentimental meaning for them. Their name "Chainsmokers" was used just because it sounded clever for them and the domains were open. No one could've predicted that it would get this big and awesome for them, right? Imagine 443,792,938 views for just one track?



Soundcloud was the first home of The Chainsmokers
Before achieving the success they have now, The Chainsmokers used to upload their tracks in Soundcloud. It was a matter of expressing their musical passion and their intention to share it with the world.
They even collaborated with Miss World title holder Priyanka Chopra back in 2012. In case you haven't heard it yet, here you go!
(To listen to the song, click: Erase featuring Priyanka Chopra)



You've been singing their track "Roses" wrong!
Their biggest track of 2015, "Roses," was the anthem of every gathering you could think of. But do you honestly and wholeheartedly know the lyrics of that song? Well here are some lyrics you've been mistakenly hearing (or singing in the shower perhaps):
ADVERTISEMENT - CONTINUE READING BELOW
Misheard Lyrics:
Take it slow, but it's not typical
He already knows my love is fine
His heart's of stone, his hands roam
I told him to go, but he took it hard
Original Lyrics:
Taking it slow, but it's not typical
He already knows that my love is fire
His heart was a stone, but then his hands roamed
I turned him to gold and it took him higher



You would think this duo was in a long-term friendship… absolutely NOT.
Before all the music, the parties, and the mixing, they were total strangers to each other. According to a telephone interview they had with Up to the Sun, they were just introduced to each other by a friend of a friend. Who would've thought that these two would be selling thousands of copies after just sharing the same passion for music! In the same interview, it was mentioned that Drew was mostly into pop tracks and Alex was the one DJing in New York but after two months of mashing mixes, they found themselves doing more legit tracks together.



A bookworm and a gameplayer come together
When they're not in the music scene, what do these two actually do with their lives? You would think they'd be out partying, living the life, or just doing random things with their friends but nope, not at all. These two have a different side that we don't usually get to see. Alex is actually a bookworm who loves to read novels, while Drew on the other hand loves video games, well "Call of Duty" to be exact.



They take inspiration from anything and everything
These hitmakers do not pick and choose the kind of music they produce. As they say, a person born out of music produces the kind of music that inspires them. They have the passion for the art and this varies from different genres and music types. They wish to continue to evolve as performers and to be an inspiration to aspiring musicians. They continue with their mission which is to just mix what they think is fun.




ADVERTISEMENT - CONTINUE READING BELOW
A bonus fact about The Chainsmokers…
They are coming to Manila this August 19 and Globe is giving Pinoys the awesome chance to win tickets to watch them LIVE at the MOA Concert Grounds.
Interested parties can register to any GoSURF or GoSAKTO promo until August 10 and get a chance to win VIP or Lower Box A tickets.
Just text GLOBEXCHAINSMOKERS REG (name/address) to 2363.
Example: GLOBEXCHAINSMOKERS REG (Ed Sy/#4 Atis St. Cubao QC)
You'll earn one (1) raffle entry for every P5 spent on GoSURF or GoSAKTO. If you win, you'll get a text message with instructions on how to claim your tickets.
Registration is free of charge.