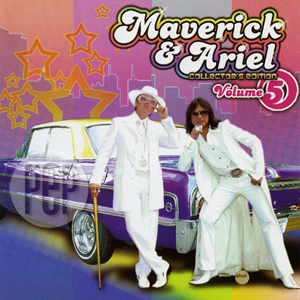 ---
After gaining public attention via the ABC-5 show The Misadventures of Maverick & Ariel, this comic duo is now venturing into the field of music with the release of their debut album under Alpha Music.
Entitled Collector's Edition Volume 5, the album contains 11 tracks of varied musical genres that best showcase the duo's musicality.
Listeners will be entertained by cuts such as "Ligaya Machine," a pop dance track that talks about them as a "ligaya machine" bringing good times and joy to those they encounter; "Pinay Gal," a simple light-hearted Taglish song that expresses one's love and admiration for the Pinay; "(Do Dat) Funky Bop," a dance track about Funky Bop; "Haydie"; "Dynamite," a funky James Brownish song that will get listeners tapping their feet and head bobbing.
Collector's Edition Volume 5 also includes "Paniwalaan," a classic OPM hit modernized by Maverick and Ariel by adding rap lyrics; "Sikat Na Laos," a story for "has-been" celebrities; "I Believe in Miracles," a pop rock song about expressing one's happiness and confidence in good things that may come; "Pa'no"; "Banggaan Na," a modern Tagalog disco track remake of the Commodores' 70s dance hit "The Bump"; and "Birthday Ko Na," a pop ballad track that talks of one's melancholy as his or her birthday approaches. Despite the serious topic, Maverick and Ariel manage to insert zany ideas in the lyrics.
Maverick (whose real name is Anthony Relova) and Ariel (whose last name is Villasanta) started out as competitors on the show ON Air. This 30-minute TV program on ABC-5 gives each contestant two minutes to perform what ever s/he wants to do. They were pitted against each other, along with a female contestant. Unfortunately, both of them lost to the third contestant. Maverick approached Ariel and asked if he wanted to perform again, this time doing their act together. They won and got the People's Choice Award for the year.
ADVERTISEMENT - CONTINUE READING BELOW
Soon after, the two starred in their own TV series, The Misadventures of Maverick & Ariel.
Maverick is a toy and vintage car collector who grew up listening to standard songs but likes singing songs ranging from classic to hiphop. Meanwhile, Ariel is a telecommunications employee who considers VST and Company among his musical influences. Aside from appearing in product endorsements, they have also been nominated in the Golden Screen Awards, Star Awards for TV, and the 1st MTV Style Awards.
The Collector's Edition Volume 5 album of Maverick & Ariel is now available in CD format at all Alpha outlets nationwide.