Singer/songwriter Charlie Puth is finally back in Manila!
The 24-year-old American singer brings his Nine Track Mind tour to Manila by holding his concert at the Kia Theater in Quezon City tomorrow, August 14.
The singer is on tour to promote his debut album Nine Track Mind, featuring the songs "Marvin Gaye" and "One Call Away." It also includes his latest single "We Don't Talk Anymore" featuring Selena Gomez who recently performed in Manila for her Revival Tour at SM Mall of Asia Arena.



Only a handful of his Filipino fans were able to meet him at the Ninoy Aquino International Airport because of the heavy rains.

The singer also got stuck in his hotel room because of the inclement weather. To pass time, the "Marvin Gaye" singer entertained himself by narrating his version of the Star Cinema movie Every Day I Love You starring Liza Soberano, Enrique Gil, and Gerald Anderson.
The movie originally revolves around a love triangle between the lead character, but Charlie decided to give it a twist.
In one of the scenes, the singer translated the dialogue and focused on the clothes of the characters. Charlie uploaded it on his Snapchat account.


Watch the video below:

This is Charlie's second visit to the Philippines.
The "See You Again" singer first visited Manila in October 2015 to promote his debut album Nine Track Mind at Eastwood Mall in Quezon City.
Read: Charlie Puth of 'See You Again' fame wants to work with Bruno Mars 'because he's half Filipino!'
In one of his Snapchat videos, Charlie revealed that he wrote the lyrics of his song "We Don't Talk Anymore" at the same hotel room where he's staying in the Philippines.
Charlie said, "That desk is where I wrote 'We Don't Talk Anymore' here in the Philippines where I just arrived."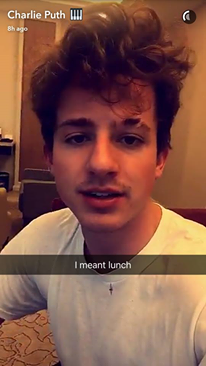 In an interview with MTV, Charlie said the song was inspired by a friend who had just broken up with his girlfriend. Charlie met Selena at the MTV Video Music Awards back in September.
He personally asked the "Kill 'Em With Kindness" singer to record a verse on the song a few weeks later. According to Charlie, Selena finished recording her verse in just 15 minutes!
[gallery id="8204"]