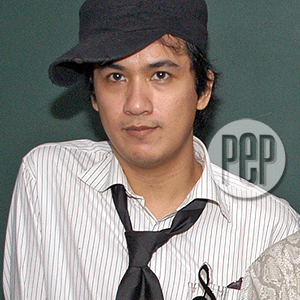 ---

A healthier looking Ely Buendia appeared before the public for the first time on S-Files last January 29, following a recent heart attack. The rock icon and frontman of the band Pupil underwent an angioplasty operation to remove blockage in his artery.
While the S-Files interview was taking place, 22 bands were performing in a concert entitled LivELY: A Fundraising Concert for the Benefit of Ely Buendia at Eastwood Central Plaza. Some of the bands who lent their talents were Parokya ni Edgar, Kamikazee, Spongecola, Rivermaya, True Faith, Itchyworms, among others.
Ely is clearly touched by the gesture of his friends from the band scene. In a live interview from his home in Parañaque, Ely expresses his gratitude.
"Actually, I just learned about this two days ago lang. Hindi nila sinabi na gagawin nila 'to. Kung pupuwede nga lang akong pumunta dun ngayon, I would join them. Siyempre, mga kaibigan ko, compatriots in the music industry," says Ely.
"Pero sabi kasi ng doctor, pahinga muna. I'm very glad, thankful, and touched that they've done this for me. Paminsan-minsan mo lang makikita yung real love and support from your family and friends. I get to see kung sino yung mga kaibigan mo.
"I was really surprised. Wala akong alam sa mga nangyayari ngayon, pero nakaka-touch. What can I say? I'm so thankful that the music industry is helping me out and supporting me... Sa lahat ng nag-organize ng event na 'to, thank you very much to all the people," he adds.
Ely's ordeal began on January 6 when he suffered a heart attack after a gig with Pupil in Laguna. The former Eraserheads frontman was already complaining of heartburns prior to the gig, but he still insisted on performing.
"Very well. Buhay na buhay. Okay naman, still resting. Taking medicine. Eating good food" is Ely's answer to S-Files co-host Richard Gomez who asked how he was recuperating.
ADVERTISEMENT - CONTINUE READING BELOW
While Ely was in the ICU (intensive care unit) of the Philippine Heart Center, he was visited by former Eraserheads bandmate Buddy Zabala. Ely did not get the chance to talk to Buddy as he was sleeping when Buddy and his wife came.
Ely recounts, "I'm not able to talk to them, tulog 'ata ako nun that time. Nakausap nila mom ko."
Raymund Marasigan, another former Eraserheads bandmate and now the frontman of Sandwich, sent Ely a text message.
It should be recalled that Ely and his former Eraserheads bandmates—Buddy, Raymund, and Marcus Adoro—had a misunderstanding following the disbandment of the band often called the most successful band act in local modern music history.
Ely shares this about his relationship with his former bandmates in Eraserheads: "It's always been a silent type of relationship. We say hi to each other sa mga shows. Maliiit lang naman eksena natin."
Ely Buendia was the frontman of Eraserheads. The band was undoubtedly the biggest band of the '90s, selling one platinum record after another. Their albums Electromagnetic Pop, Circus, and Cutterpillow produced timeless hits such as "Ang Huling El Bimbo," "Pare Ko," "Sembreak," "Alapaap," "With A Smile," among others.
After Eraserheads disbanded in 2002, Ely tried to venture into solo recording but never hit the success that he did with Eraserheads. He then formed a new band called Mongols, which was later renamed Pupil. He was performing with Pupil when he had a heart attack.