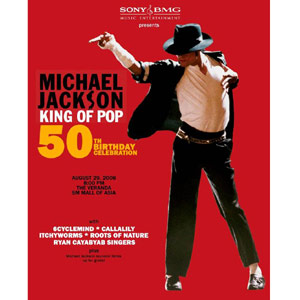 ---

August 29 marks another milestone for Michael Jackson. It isnot only his 50th birthday but he will also be releasing a compilation albumtitled The King of Pop, tracks of which were chosen by Filipino fans.That is why Sony BMG Music Entertainment Philippines, MYX, Magic 89.9 and SMSupermalls will give a celebration only fitting for a king on the same date, Friday, 8 pm at The Veranda (beside Music Hall) of SM Mall Asia.
Top bands 6cyclemind, Callalily, Itchyworms as well as upand coming band Roots of Nature and vocal group Ryan Cayabyab Singers will givetribute to the King of Pop with their interpretations of Michael Jackson songs.Lots of prizes await the viewers as limited Michael Jackson souvenirs are upfor grabs. Get ready for a special surprise from the King of Pop himself.
Last month, fans tuned in to MYX and voted for the top 10all time favorite Michael Jackson tracks that they want to appear on the KingOf Pop album. And those tracks appeared in the collection of hits now outin leading record stores. Five lucky viewers received an exclusive gift packfrom SONY BMG Music Entertainment.
Named the "Most Successful Entertainer of AllTime" by the Guinness World Records, Michael Jackson is among the mosthighly acclaimed and influential artists in pop culture. And what better way tocelebrate Michael's amazing career than with a new King Of Pop greatest hitspackage that is chosen by his Pinoy fans.
Michael Jackson "King of Pop" 50th Birthday Celebration isbrought to you by Sony BMG Music Entertainment, MYX, Magic 89.9, SM Supermallsand SM Mall of Asia.