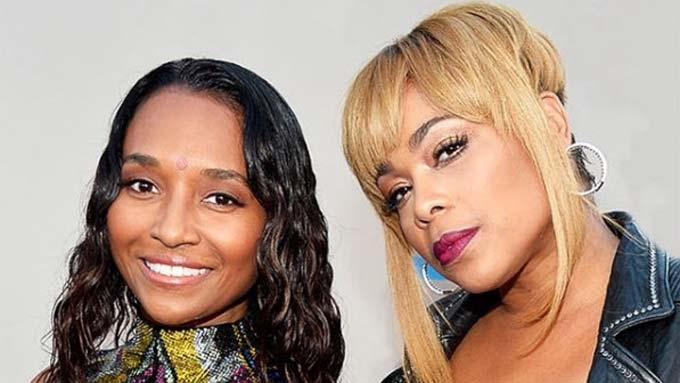 IMAGE From Instagram account of TLC
---
If there's one girl band which we could vote as the most influential in decades, it would have to be TLC, whose R&B and pop tunes take us all the way back to the '90s and way before we heard about Spice Girls and Destiny's Child.

TLC, whose name is actually the acronym of the first names of original members Tionne "T-Boz" Watkins, Lisa "Left Eye" Lopes and Rozonda "Chili" Thomas, is a multiplatinum trio ranked by VH1 as the greatest female group, and one of the greatest musical trios by Billboard.

They are best known for their singles "Creep," "Waterfalls," "No Scrubs," and "Unpretty," which all peaked at No. 1 on the Billboard Hot 100.

All the members of the musical trio considered each other irreplaceable by others, and so it came to no surprise that Watkins and Thomas decided to continue as a duo after the untimely death of Lopes in 2002.

The TLC duo will perform at the Araneta Coliseum on November 6, 2016 with SWV (Sisters With Voices), also an all-female trio formed in the 1990s.

According to concert organizer MMI Live, tickets to TLC and SWV Live in Manila are now available through TicketNet (www.ticketnet.com.ph) or call Tel. No. 911-5555.

(Read: 90s groups TLC and SWV to hold Manila concert this November 6)
ADVERTISEMENT - CONTINUE READING BELOW


Here are some TLC songs we'd like to hear and take us back to the nineties come November.


Creep
The lead single of the group's CrazySexyCool album became the group's first No. 1 hit on the Billboard Hot 100, and was also nominated for two Grammys at the 1995 Grammy Awards.

The song's take on infidelity can be an anthem for women who have been cheated on, with its catchy repetition of the lyrics "So I creep, yeah, cause he doesn't know/ What I do and no attention/ goes to show oh so I creep."

However, its vengeful theme is also polarizing, and even TLC member Lopes was against its release. Still, we would really love to hear the remaining duo perform this nostalgic single.




Waterfalls
Many fans identify "Waterfalls" as the group's signature hit, and it did spend at least seven weeks on the top spot of Billboard Hot 100 in 1995. The song wasn't just catchy, it was also very relevant at the time of its release as it subtly tackled drugs, HIV/AIDS, and promiscuity. Then again, it still echoes a lot of social issues at the moment, and would definitely present more than a nostalgic trip when we hear it performed live in the Philippines.





ADVERTISEMENT - CONTINUE READING BELOW
No Scrubs
"No Scrubs" became the second-biggest Hot 100 single of 1999 and was such a big hit in 1999 that it even spawned an answer song, "No Pigeon," by Sporty Thievz. The popular tune for women who don't want a guy who is a "scrub...always talkin' about what he wants and sits on his broke ass" is still definitely catchy.

The single has also been covered by other prominent artists like Blink-182, Swing Out Sister, Lisa Loeb, and even the Glee cast.





Unpretty
Anyone battling insecurity and physical inadequacy would surely cry over the group singing this song again live. The empowering single brought the group to the top of charts for the fourth time in 1999, fresh after the success of "No Scrubs."






Diggin' On You
Penned and produced by Babyface, this single definitely has his trademark vibe, but TLC's vocals gave this song a sound that distinguished it as most definitely theirs. Its vocal stylings did give away the feeling of someone trying to coolly fall in love, but still actually giddy and hopeful inside.





ADVERTISEMENT - CONTINUE READING BELOW
I'm Good At Being Bad
"I'm Good At Being Bad" did not get official airplay in the U.S., but still reached the top 40 of the Billboard Hot R&B chart in 1999. Inspired by Janet Jackson's 1997 album The Velvet Rope, the chorus' provoking lyrics "What you gonna do with a bitch like me/ I'm so good at being bad/ I epitomize the word sexy" does exude a bit of Janet's spunk.