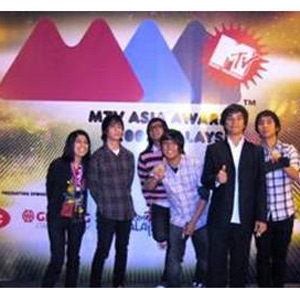 ---

Chicosci recently won the "Favorite Artist" award for thePhilippines in this year's MTV Asia Awards held at the Arena of Stars inGenting, Malaysia. The quintet bested other local acts such as Sponge Cola,Urbandub, and Sandwich through SMS and online voting. The five-man band iscomposed of Miggy Chavez, Carlos Calderon, Mong Alcaraz, Joel Salvador andAriel Lumanlan.

It was said that votes for the band did not only come from the country but fromother regions as well. "I wasreally surprised when I found out that we won because prior to theannouncement, they took down the voting results on MTV Asia's website, so wereally had no idea who was leading," recalls Miggy Chavez. When they foundout they won through a text message from MTV, they couldn't believe it,thinking it was just a joke, until confirmed by their manager Soki Munar. Theband is grateful for their solid fans and supporters that have been part of the"win," sharing that it was them after all who put in the effort tovote.

"What they want, they get," Mong Alcaraz says with a laugh."They made the whole experience special. They really put in the effort tovote kasi we were up against big bands. E, sino naman kami?" Miggy wasmodest enough to add considering the band surprisingly has fans in Malaysia.During their visit, some locals would come up and ask for autographs and havetheir picture taken with the band.
Guitarist Mong Alcaraz described the entire experience assurreal-from meeting some fans (Filipinos and locals), walking the red carpet,eating curry backstage with Jared Leto-types, to having the Pussycat Dollspresent their award onstage. The band jokingly admits that the real award theygot were the free hugs from the sexy girls of the Pussycat Dolls. They alsoreveal that the highlights of their stay in Malaysia include going to the venueriding a limousine, staying in a hotel on the same floor with the internationalartists, walking the red carpet with all the fans screaming "Chicosci,"getting their autographs and taking pictures, media people interviewing themhere and there, and hanging out and talking with some of the internationalartists like Panic at the Disco, One Republic, among others.

Everyone who watched the MTV Asia Awards will not forget how lucky the Chicosciboys were to have accepted the award from world-renowned Pussycat Dolls. It was inevitable, the boys made quite animpression on everybody as they meet people asking about the encounter with theall-girl group.
ADVERTISEMENT - CONTINUE READING BELOW
At the risk of sounding a tad corny and being too boyish,drummer Joel Salvador says, "It was a totally unexpected win, having beenagainst the top bands in the Philippines. When we started Chicosci, I neverreally imagined we would be able to go up on the biggest stage in Asia. It wasthe MTV Asia Awards! No one really sets goals that far. When a band starts out,dreams only end up to getting that first single played on the radio. What wehave now and where we've gone is so much further than any of us have dreamedof. The Pussycat Dolls gave us free hugs, man! No Filipino has ever gone thatfar! Hahaha!"
Even vocalist Miggy Chavez felt that everything happened sofast: "One minute we were just sitting then we were being asked to come uponstage then we were already backstage chatting with Jared Leto!"
But even with the group's success, Chicosci is not one to becomplacent. They are currently in the process of writing, planning and"demoing" their follow-up. When asked what's next for the band, Miggyconcludes: "new album, new everything. We gotta keep it fresh."
Join Chicosci and the Vampire Social Club as they celebratethis much-awaited Victory Party on August 29, 2008 (Friday) 9 pm at the ElbowRoom, Metrowalk. Catch them as they perform new songs from their upcomingalbum. The band promises to showcase never-before-seen performances for thosewho will attend the victory party.

Free admission.