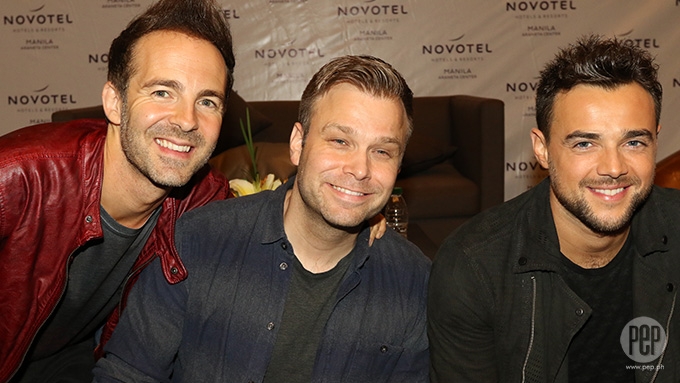 IMAGE Noel Orsal
---

British-Norwegian boyband A1 is back in the Philippines!

Christian Ingebrigsten, Mark Read, and Ben Adams of the popular '90s boyband are excited to treat their loyal Filipino fans to a full concert with a setlist composed of never-before-performed songs and chart-topping hit singles.
"This is one of our favorite countries. We absolutely love it," Ben told the Philippine media at the press conference held at Novotel Manila Araneta Center on October 20.

Their Here We Come-Back! Tour will take place in Manila at the Kia Theatre Araneta Center this Sunday, October 23, and in Cebu at the IEC Pavilion on Tuesday, October 25.
The band had their first concert in Manila back in 2001.
Being one of the most successful boybands of the late '90s, A1 had been around for 17 years.
At the press conference, the members reminisced about their early years as a band. They candidly talked how the years have been kind to them and helped them grow as musical artists.
"Back when we first started, we were very fun, energetic, fresh, pop! And a lot of the songs we wrote are kind of like calling cards for the fans to get to know us as a band, who we were," Mark said, looking back at earlier singles.
"When we wrote the songs 'Like a Rose,' 'Everytime,' and 'One Last Song,' we were young guys experiencing, probably, young love and a lot of people could relate to that and a lot of those songs resonated with people.
ADVERTISEMENT - CONTINUE READING BELOW
"What I think it's so nice is that those songs continue to resonate with people up until now."
The members always felt amazed to hear Filipino fans sing their songs every time they performed in the country.
Mark even recalled a moment in Cebu when a group of children sang a set of their songs.
"The last time we came over, and this one was at Cebu, a huge group of children--like children! I mean, they probably weren't born, well, they certainly weren't born when we released these songs, but they were singing songs like 'Like A Rose' or 'One Last Song' and it's such an amazing moment to hear that.
"We really appreciate how a lot of these different songs stay with different generations, growing up with our music and what amazes us is how loyal the fans have been to us."
In terms of how the boys themselves have changed since their debut in 1999, Ben believed that they had remained the same all throughout the years.
He said, "We're like three Peter Pans, to be honest. We grow up in age, but we don't grow up mentally. We're sort of the exactly same people having exactly the same amount of fun."
Ben personally appreciates their status now compared to the height of A1's popularity back in the late '90s to early 2000s.
"I am enjoying myself so much more this time around than I ever did back then because we have a lot more time now to actually sit and enjoy it.
ADVERTISEMENT - CONTINUE READING BELOW
"It's not just conference after conference, country after country. We actually have a few days here in the Philippines to enjoy it, to see our fans, to see the Philippines which we rarely got to do before because it was literally in and out, security guards everywhere like that.
"It's a little bit more relaxed."


THE CONCERT. The A1 members promised a more intimate concert this time around since they will be performing songs that they haven't performed since its releases.
Ben revealed that the setlist would be different from the usual, "We'll be doing a lot of songs that--I don't think we've ever performed these songs!
"So, it's gonna be quite exciting and if people really know the songs, then they'll probably pick out the mistakes when we forget the lyrics. We'll do our best."
Mark couldn't wait to perform for their Pinoy fans, "We can't wait to perform these songs. We're going to be performing songs that we haven't actually performed in I'd say, probably for 15 years which really shows how long we've been doing this.
"In fact, I think some songs we've never actually in the way we would be performing them in Manila and in Cebu as well."
Christian also teased, "We wanna be intimate with our fans, you know, in a concert way. So, we'll be telling the stories of how the songs came to be and we'll be playing them acoustic."
The concert is also their way of saying thank you to Filipino fans for their unwavering support.
ADVERTISEMENT - CONTINUE READING BELOW
Mark admitted, "We have so many positive experiences coming over here and we just want to thank you all.
"Thank you so much for continuing to come and see us, thank you so much for all of your support, you have no idea how much it touches us. It means the world to us.
"We can't wait to give you so much back at these concerts in Cebu and here in Manila."
Tickets for A1's Here We Come-Back! Tour are available on Ticketnet.