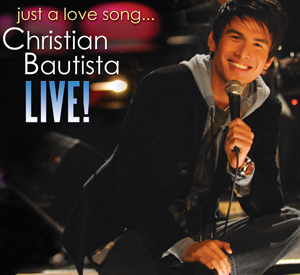 ---
Christian Bautista has released his third major international album, Just a love song...Christian Bautista Live!


This album has been in stores across the Philippines since December 23, 2006. This is Christian's first live album featuring 19 tracks of the '70s, '80s and '90s, most of which are romantic love songs. It was recorded live before an all-female audience at the Teatrino, Greenhills, San Juan.

A five-piece band, a five-piece strings section, and a grand concert piano accompanied Christian during the recording of the album.


Asia'Pop Idol formally launched his newest album on ABS CBN's ASAP '07 musical variety show last January 7. His carrier single is the cover version of the Barry Manilow original "Trying to Get the Feeling Again."


The rest of the tracks include "More than You'll Ever Know," "Only Reminds Me of You," "Beautiful in My Eyes," "Make It with You," "Got to Believe in Magic," "Fixing a Broken Heart," "Could Not Ask for More," "Of All the Things," "Nothing Can Stop Us Now," "Be My Number Two," "Finding Out the Hard Way," "Blue Eyes Blue," "Cry for Help," "Heaven Help," "I Won't Hold you Back," "If Ever You're in my Arms Again." "You" and "Just A Love Song."


Warner Music Philippines will distribute Just a love song...Christian Bautista Live! all over Asia.