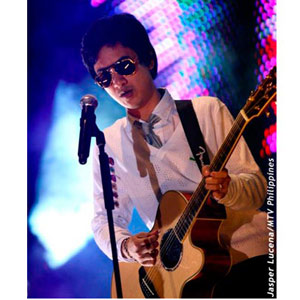 ---

The Eraserheads reunion concert is considered as the mostanticipated musical event of the year. This one-night-only reunion concert is what the band's die-hard fanshave been wishing for since they disbanded in 2002.
So when the four-member band emerged on the set, fanaticsstarted screaming out loud as Ely Buendia started to sing "Alapaap" while BuddyZabala, Marcus Adoro, and Raimund Marasigan played their instruments. Six years after the band's break up, theirfans finally saw them play together again on stage.
The audience sang along with the band when they performed"Ligaya," "Toyang," "Fruitcake," "Hey Jay," "Kama Supra," "Kaliwete," "Harana,"and "Shake Yer Head." While the other reminisce their E-Heads days with thesongs "Sembreak," "Kailan," "Huwag Kang Matakot," "Huwag Mo Nang Itanong," and"With A Smile."
However, after the legendary band performed "Lightyears,"many noticed how Ely sat down on stage and looked exhausted from playing15 songs straight without any spiels or break. After this, a voice announced that there would be a 20-minute breakbefore the band resumes on their second set. (Click here to read relatedarticle)
THE SAD ANNOUNCEMENT. Twenty minutes after the announced break, Eraserheads has not yetcome back on stage. Spectators startedto wonder what caused the delay, but still they waited patiently.
A few minute later, Raimund, Buddy, and Marcus went back onstage but with puzzled faces. Then,Buddy spoke, "Ipapakilala ko po ang isa sa mga kapatid ni Ely. Ito po si Lally, may babasahin lang posiyang message para sa inyong lahat." Then, Raimund cut in, "Pwede pong makinig kayo nang mabuti, alam namingmaiintindihan ninyo. Makinig po kayonang mabuti, pakiusap lang."
Lally, then, went on with the message: "Thank you everyonefor supporting the reunion concert of Eraserheads. We, however, regret toinform you that due to my brother's poor health because the emotional andphysical stress that he's been experiencing, we apologize for cutting theconcert short. My brother had to be rushed to the hospital for medicalattention. Again, we apologize and thank you, all of you, for coming heretonight."
ADVERTISEMENT - CONTINUE READING BELOW
Raimund apologized as well, "We don't know what to say. We're in shock." Following this was the confirmation from the promoters aboutEly's situation and their request for prayers and understanding from theaudience.
The concertgoers, instead of shouting for more, openlyaccepted what happened and quietly left the venue after the announcement.(Click here to read related article)
"SECOND SET" IN SAGUIJO?" Days after the memorable concert, reports started to spread that theother three members headed to Saguijo Bar in Guijo Street in Makati, whereplayed their supposed "second set" with the other local band members.
With this information, some of the people who came to theconcert were questioning why the other Eraserheads members—Raimund, Buddy, andMarcus—played there instead of doing it at the Global City Open Field at TheFort.
Raimund, on the other hand, explained in an open letterrepublished in the Multiply account of his other band Pedicab, "We played inSaguijo because we wanted to, we needed to. Our hearts and souls dictated it. We could just go home and sleep. We did not talk about it. Therewas no invites, there was no plan. Wedid not get paid. We borrowedequipment."
On the later part, the Eraserheads drummer wrote, "If wefinished the [E-Heads] show that night, you would STILL have found us in Guijoplaying after."
Unlike what many have speculated, Raimund defended thattheir former band's frontman knew about the gig they did in Saguijo. "Yes, Ely knew about it. Buddy told him the next day."
ERASERHEADS REUNION PART 2? At the latter part of open letter, audience who felt "bitin"during the concert might find Raimund's line interesting. It read: "Yes, I visited Ely in the hospitalyesterday. I hope he recoverssoon. We have a show to finish."
MTV Philippines—the mother group of the reunion concertorganizer named Radiohead—released a statement in a daily broadsheet today withregard to the return performance that people have been requesting.
ADVERTISEMENT - CONTINUE READING BELOW
Frances Lumen, CEO and President of MTV Philippines, firstexplained about the refund for those who bought tickets for the concert andexplained that they have not yet received a single complaint about it.
Lumen said "In fact, when the Saturday show was cut short,the crowd readily joined a call for prayer, then dispersed quietly."
As for the part two, the MTV excutive said that the threealso said that they were agreeable to a reunion part 2. However, this would depend on Ely's recovery.
The singer-composer isreportedly at the Philippine Heart Center where he underwent a third angioplastylast Monday, September 1.
Lumen ended, "Right now, everybody's main concernshould be [Ely's] recovery."
Click
HERE
to view photos of the Eraserheads reunion concert.