Legendary American singer extraordinaire Pat Boone held a special, one-night-only Christmas concert (titled A Merry Christmas with Pat Boone), presented by Ovation Productions, at the Smart Araneta Coliseum in Quezon City.
Arguably the best crooner of his time, Boone made his professional recording debut in 1955 and his career attained greater heights when he set several new records in music and entertainment that have remained unsurpassed until today.

He has sold 45 million records, had 38 Top 40 hits and appeared in more than 12 Hollywood films.
Boone's special guest during his Philippine concert was the half-Filipino, half-Dutch Ms. Aliya Parcs, famous for her song Stop Think, the official soundtrack of the Filipino rom-com movie, Bcuz of U, released in 2004. Aliya performed Someone to Watch Over Me, All the Things You Are, The Way You Look Tonight, The More I See You, Misty and L.O.V.E.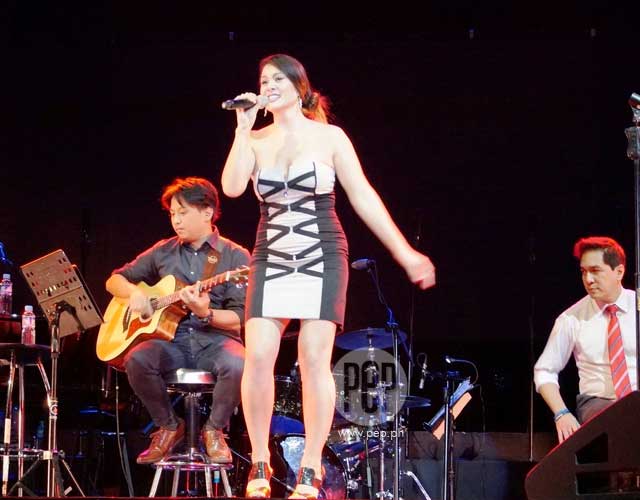 After a 15-minute intermission, Boone made his appearance on stage in his trademark snow-white fringed and sequin coat, white buck shoes, perfectly combed silvery hair and a gleaming smile on his handsome, clean-cut face.

He opened with one of his classics, Ain't That a Shame (Pat's first Billboard No. 1 single), and it seemed like 1950s all over again. Pat was accompanied on stage by 4 musicians from California and supported by the all-Filipino AMP All-Star Band.
This was followed by Tutti Fruitti (A Little Richard original), When I Lost My Mind (No. 1 in the Billboard Charts in 1956) and Bernardine (performed by Boone in a movie of the same name). Then Pat sang Love Letters in the Sand, another smash from the 1950s and, in the middle of the number, Boone whistled the tune then asked the audience to whistle along with him.
After performing the teenage tragedy song Moody River, Boone, being the gentleman that he is, went down the stage and presented a bouquet of flowers and planted a kiss to a 96-year-old lady fan while singing the popular April Love (again from the movie of the same name).

Boone said that the lady's name was Star or, in Tagalog, Bituin. With Don't Forbid Me, another 1957 hit of his, Pat narrated that his record only came about because the demo that was FIRST sent to Elvis Presley's house just laid there UNOPENED with all the junk that comes there.
Though the song Speedy Gonzales, about "the fastest mouse in all Mexico," was not originally recorded by him, Pat made it popular when he overheard it being sung by a vocalist in a local night club owned by a TV producer in Manila (he performed 10 sold-out shows at the same venue in 1961).

He rounded off his hit playlist with Blueberry Hill (a Louis Armstrong and Fats Domino hit) and the great country gospel song A Wonderful Time Up There.
Then came a series of traditional Christmas carols, starting with Its Beginning to Look a Lot Like Christmas/Christmas is Coming, Jingle Bells, Winter Wonderland and Chestnuts Roasting on An Open Fire. Pat performed White Christmas and the medley of O Little Town Of Bethlehem/Hark the Herald Angels Sing/Away in a Manger/O Come All Ye Faithful/Joy to the World with the 20-man CCF Chorus.
Pat also sang two Christmas songs he composed. His I Saw Santa Prayin' was Pat's attempt to reconcile, for kids, the two main figureheads of the Christmas season: Santa Claus and the Christ Child. Here, he wore reading glasses while reading lyrics from the story book Santa and the Christ Child.

While singing Little Green Tree, he sat on a rocking chair beside a green-lit tree, the very thing he speculated he would do if he were doing Christmas shows in another part of the world and was prevented from being home for Christmas by bad weather or something else.
Finally, he led the audience into a sing-along with Silent Night and We Wish You a Merry Christmas. It really is tough for any performer to carry a 90-minute show prancing around (though slower) the stage, but this 82-year-old geriatric teen angel still managed to do it.
After over 5 decades on stage and nearly 50 million records sold, Pat Boone still seemed right at home and thrived in front of this devoted Filipino audience, comprised mainly of folks 55 and over, as he took us on this sentimental journey down memory lane with his unique variety of songs. His warm baritone voice, though noticeably weaker, lower in pitch and sometimes off key, still sounded velvety, resonant and inviting. He still retained his sparkling personality, flashy smile and still knows how to sell a song.
The concert was also an autobiographical one-man show, with unique onscreen video clips highlighting classic performances of Boone's concert, movie, and television appearances, archived during his expansive career, which illustrate Boone's easy-going yet intriguing narrative.
Pat Boone has been listed by Billboard as the second biggest charting artist of the late 1950s, behind only Elvis Presley and ahead of Ricky Nelson and The Platters. In the magazine's listing of the Top 100 Top 40 Artists for 1955-1995, he was also ranked at No. 9 – behind The Rolling Stones and Paul McCartney but ahead of artists such as Aretha Franklin and The Beach Boys. He still holds Billboard's record for spending 220 consecutive weeks on the charts with one or more songs each week.

This "Pat-of-all-trades," with his down-home personality, absolutely charmed us as he vividly told stories of his over fifty-year career as a singer, actor, TV host, author, composer, radio personality, motivational speaker, family man and humanitarian as well as he being a direct descendant of the legendary American frontiersman Daniel Boone.