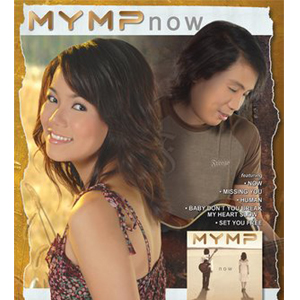 ---
With platinum albums attributed to their group, the popularity ofM.Y.M.P. can no longer be disputed. The velvety voice of Juris Fernandez canactually lull one into sleep, while the arrangements of Chin Alcantara areimpressive.
In their previous albums, they popularized a lot of revivalsongs. "Waiting in Vain" and "Tell Me Where It Hurts" were my personalfavorites. I liked Chin's playful guitar strokes for the former, while the renditionof Juris for the latter was truly earnest.
But I wasn't so keen about their original singles like "ALittle Bit" and "Talaga Naman." These two songs were great hits, but they're quitejuvenile for my taste.
Until I heard "Now."
The carrier single of their recently-released album, whichhas the same title, is breezy and gratifying to listen to. Cebu'spride Cattski Espina's straightforward lyrics and Juris's clear voice can hit alistener right to the core.
Another original piece of the group is "Wish List," whichwill surely land the top 10 charts come Christmas. One thing to note here is Juris'streatment of the song, it is quite intense.
"Missing You" is another gem in the album. The arrangementdid not deviate that much from John Waite's, except for the guitar intrusion insome portions of the song, which added some character and became a goodcontrast to the melodic voice of the vocalist.
If you want to hear the country version of Heart's "These Dreams,"Madonna's "Cherish," and Paula Abdul's "Rush, Rush," this album has them. Payattention to the brief guitar intro for the songs, the apt description is striking.
In addition, the male back-up on "These Dreams" is a nicetouch. "Cherish" and "Rush, Rush" have a much slower and more relaxed tempo.
Pretender's "Human," Step's "Make It Easy On Me," andRestless Heart's "When She Cries," which is the only track of Chin in the album,can be perfect company while driving.
ADVERTISEMENT - CONTINUE READING BELOW
When you're in a senti mood, switch to "Baby Don't You BreakMy Heart Slow," a Vonda Shepard song, and "Set You Free," an original of SideA. The latter was personally hand picked by Juris, and she gave a soulfulfemale version for the song.
And if you like a less-edgy and more laid-back interpretationof "Impulsive," which was popularized by Wilson Phillips in the early '90s,then you will enjoy the duo's version.
As a whole, M.Y.M.P. "Now" is more adventurous in terms of their cuts selection, more mature on their sound, and more distinct when it comesto their brand of music.
In an interview last August 15, Chin told PEP: "Parang nalaman na namin kungano ang direksiyon namin. Kasi yung mga dating albums namin, halo-halo, mayalternative...hindi namin alam kung saan papunta. Ngayon alam na namin kungsaan kami papunta."
He's right.
And I'm certain M.Y.M.P. will once again live up to what ittruly stands for: "Make your momma proud."