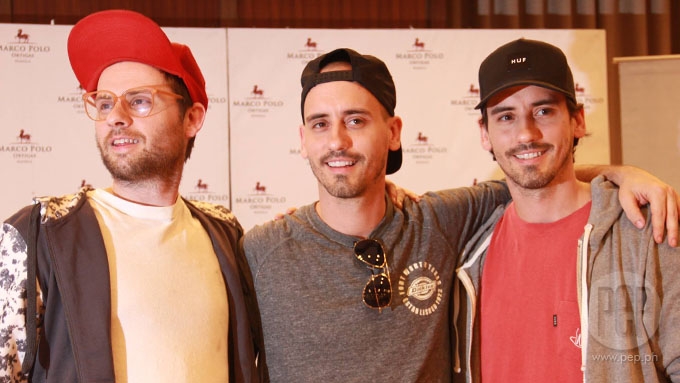 IMAGE Miguel Nera
---

After almost two decades, Canadian band The Moffatts is finally back in Manila!
The band—composed of brothers Bob, Clint, and Scott Moffatt—will be treating their Filipino fans to a nostalgic pop-rock fest when they perform their chart-topping hits "Miss You Like Crazy," "I'll Be There For You," and "If Life Is So Short." The '90s boy band will hold its Farewell Tour at the Araneta Coliseum this Saturday, February 18.
The members of the band sans their youngest brother, Dave, met with PEP.ph (Philippine Entertainment Portal) and other members of the local press on Monday afternoon, February 13, at the Marco Polo Hotel in Ortigas. The band revealed what fans can expect during their comeback to Manila's concert scene.
Bob told the Philippine media, "We're gonna have a lot of fun, we're gonna play all the records that you guys bought. And getting back on the drums, I haven't been on the drums in what seems like years. But we've been practicing—Clint practicing the bass, Scott's [practicing] the guitar—all the hits."
ADVERTISEMENT - CONTINUE READING BELOW
Bob disclosed that they will also perform some of their newer songs aside from their old hits. "A few other songs on our records, and then we're gonna do some of our music, too. Clint and I have been doing some stuff, three or four things."
Scott continued, "I'll do my solo stuff also."



THE FAREWELL. The band officially announced their disbandment back in August 2001. Since then, the members of The Moffatts have been busy pursuing their own careers in music.

Scott has been busy doing some solo projects as a singer and songwriter based in Canada.
In 2006, Clint and Bob regrouped in Thailand and formed a pop-duo called Same Same. The duo also promoted their music in the Philippines and collaborated with GMA-7 actress/singer Lovi Poe for the song "Without You."

In 2011, Clint and Bob moved to Nashville, Tennessee and pursued country music under the name Like Strangers. Five years later, the twins rebranded their duo as Endless Summer and released their self-titled EP.
ADVERTISEMENT - CONTINUE READING BELOW
The Moffatts also had a reunion project in 2012. Ultimately, the band decided to regroup for their farewell tour that they announced through their social media accounts last year. Dave wasn't able to take part in the tour and has been busy pursuing a non-music-related career.
Bob recalled, "When the idea was proposed to us, we just thought, 'You know what? Let's do this!'
"In 1999, that's probably the last year we were here as The Moffatts, and so we were here, we sold our records. Our stuff is on the radio and all of a sudden, we were done, we kind of split up.
"We just thought it would be cool to be back over hear, 'cause we have so many people who have followed us through the years on Facebook. They kept in touch and let us know that our music is still important to them.
"So we thought, 'Why don't we come back over here and do a show and have all these people who have been so supportive to us for 16 years.'
ADVERTISEMENT - CONTINUE READING BELOW
"And that opened up the door for similar cities such as Jakarta, Bali, Singapore, in all those places, as well.But it's really great to be back here."
The band had their fans to thank for making this concert tour possible.
Scott told the press, "They've been very supportive of our music and all we've done, and they've always been there for us. So, I don't know if I'm proud but it makes me really appreciate things a little bit more and I admire that.
"I think it's really cool that these girls are the same age as us now, you know. We're adults now, right? But they're still going crazy, having a fun time, screaming and like really enjoying the moment. And I think that is one of the things that I believe in to, that you should never stop feeling that way and it's wonderful."
When asked if they still keep in touch with their Filipino fans, Scott answered, "All the time on Facebook, I mean, we've been talking to or I guess, interacting on Facebook. I have my own personal music site and when I do Facebook live performances every Friday, I talk with the fans and you know, we reply to their messages.
ADVERTISEMENT - CONTINUE READING BELOW
The 33-year-old musician continued, "It's just wonderful to kind of give back since I was like hiding while performing at the same time, which wasn't the case because I was nowhere to be seen."
Bob added, "We just really have a great following from the people here in this country so we really connect with them."



MEMORIES OF MANILA. Members of the Philippine media asked them to recall their fondest memory of the country since it's been a decade since Clint and Bob's last visit to the country, and almost two decades for Scott.

Scott considered his rehearsal for a local TV show as his most memorable moment in the Philippines.
He narrated, "When we first got here, it was rainy and we had a practice as a band for a TV show or something and it was raining really heavily out and we're like in a van and we really couldn't see outside it but the wipers are going crazy.
ADVERTISEMENT - CONTINUE READING BELOW
"It reminded me of Jurassic Park when they were driving in the jungle, you know, and I just loved it. And then the van, running into the rehearsal space and it was pouring out, one of my fondest memories, for sure."
For his part, Bob recounted their mall show at the SM Megamall back in the late '90s where over 40,000 fans gathered to watch them perform.
"We've never seen anything like that!" Bob exclaimed.

"There's so many people there! There were these rafters that you kinda put up and they're holding speakers and the girls just climbing on them. It was crazy!"
As for Clint, he still recalls the first Filipino face he saw upon their arrival in Manila for the first time.
"I'll always remember, flying in for the first time and the Philippines is actually one of our first stops on our Southeast Asian tour, and when the plane landed, I looked out the window and the guy who was waving the plane into the slot where we park just have the biggest smile on his face. And I thought, you'd never see that in the States.
ADVERTISEMENT - CONTINUE READING BELOW
"That visual is always stuck on me and I thought it's just a great trait and I see that a lot with Filipino people."