Before performing for his Filipino fans, Canadian pop sensation Shawn Mendes had the chance to visit Balite Falls in Cavite.

The "Stitches" singer is scheduled to perform for his Filipino fans this Saturday, March 18, at the SM Mall of Asia Arena.

Shawn met up with members of the media from Southeast Asian countries at a press conference held at Sofitel Philippine Plaza earlier today, March 17.
This is the singer's first time in the country and Shawn only had good words to describe the Philippines.

During the press conference, the singer recounted his experience in Cavite where he spent his downtime on March 16.



He told the international press, "It was this beautiful spot and literally, we're driving through… We looked like we just drove into the woods and then it opened up to this beautiful waterfall and there was a bunch of kids and stuff there.
"And so, we jumped off of the waterfall and started swimming. It's really nice. It's really great here. The food is amazing, the people are amazing so I'm having a good time."
The Canadian singer added, "And the fans are loud! We got to the airport and it sounded like a concert."
Shawn has been earning positive feedback from Filipino fans for being very friendly and approachable. Some of his fans were able to get selfies during his arrival and his short visit in Cavite.
When asked why he loves interacting with his supporters, he answered, "I think it's important because when I'm creating music, I think my fans that have met me and get to spend time with me will understand it that much more, and relate to it that much more because they actually do know me as a person.
"Instead of just as … they know what I look like, they know what I sound like but they don't really know who I am. So I think it's important for me to make that connection with them so that they understand my music better."
When asked about his craziest fan experience, Shawn recalled, "When I was in like Madrid in Spain, it was insane. There was hundreds and hundreds of fans chasing the cars down the street. They're like running between the cars in the street. It's really crazy stuff. It's scary..."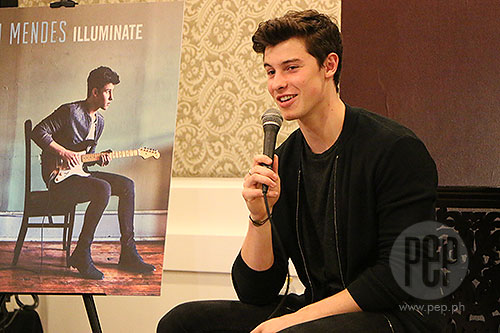 SHAWN AND MUSIC. Shawn gained a massive following on the now-defunct social media app called Vine for his short covers.

He then signed up with Island Records and released two albums titled Handwritten (2015) and Illuminate (2016).
In just a few yers, Shawn has been able to reach great heights in his career. The 18-year-old singer said he's just enjoying the experience.
"It's amazing, it's been more fun than anything. I kinda get lost in it all but none of my days are the same. Like a couple of days ago, I was in Toronto. Now, I'm in the Philippines. Every single day is different."
When asked how important it is for him to write his own music, Shawn explained that he wants to tell his story through his music.
"I think it's very important... I think whether or not you write your music or just a singer, you're creating something beautiful through emotion.
"But for me, I think it's important that I tell my story because it is so amazing what's going on with me... it's nice for me to kind of from a young age and growing up to just record my life in music and that's very nice to me.
"And also, when I'm performing onstage, I get that much more into the songs and have that much more fun.
"When I do interviews, I get that much more into the interviews because I wanna explain how I wrote that song and that's important for me too."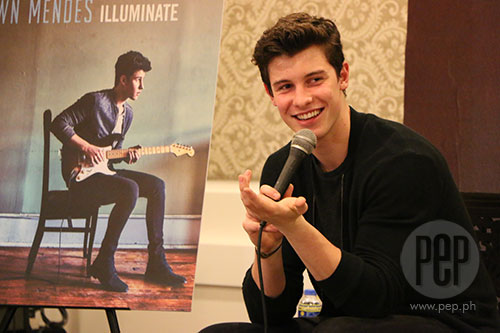 Shawn admitted that he still gets nervous before each performance.
"I still get nervous all the time. I don't you'll ever be not nervous for a performance. It kinda ticks on the first song and then I get into things, and then it goes away.
"Usually, the louder the crowd, the less nervous I am so I'm pretty sure I'll be fine on Saturday here."
Given his social media fame, Shawn gives advice to those aspiring to be like him.
"I think, it's like… the biggest mistake you can do is try to copy somebody else. If you just stay original and you know, if it's funny… or if you're a singer and if it's good, people will grasp on to it and start to like.
"Just don't try and copy people because it never works out."


WHAT'S NEXT FOR SHAWN? After his tour, Shawn said he'll continue on writing and producing music.
"I'm just making more music, you know. To just keep on making music that's good and relative and I think, you know, I'll never gonna stop making music.
"So after this, another album [will come]. So I'm just gonna… I'm feeling very inspired now, actually, more than I was when I wrote the second album and the first.
"Songs are coming out of me faster than ever before so it's exciting."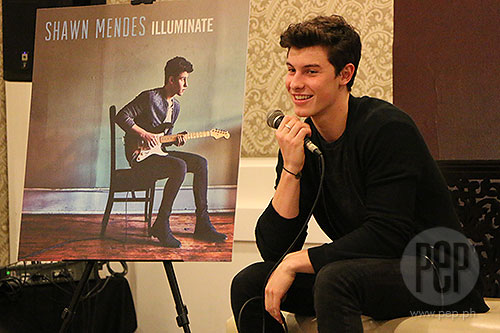 Where does he usually write his songs?
Shawn disclosed, "I can write songs pretty much anywhere. Sometimes, I usually write them like on planes.
"I write them in bathrooms a lot because of the reverb in the bathroom, it sounds nice in there."
He added, "Here, there's a beautiful balcony overlooking the ocean, so I wrote a bunch of songs here which is really nice."
Shawn pointed out that he already wrote a few songs during his stay in the Philippines.
"We started... about two or three. We haven't finished any but we've started [writing] a couple of cool songs.
Shawn continued, "Like on of them is pretty upbeat and I'm excited."
Will he include it in his next album?
He answered, "Hopefully, when I finish it."
Who would he like to collaborate with in the future?
"I'd obviously love to work with Drake or The Weeknd one day. I think they're both amazing writers and creator of music."