American pop-alternative band The Tide are all set for their Philippine comeback.
The band—composed of Austin Corini, Levi Jones, Drew Dirksen, and Nate Parker—arrived at the Ninoy Aquino International Airport on Monday night, March 27.

The members arrived four days ahead of their scheduled performances at Ayala Malls this weekend to promote their shows and introduce their new music to Filipino fans.

The four-man band is expected to perform this weekend, March 31, at Glorietta (4 pm) and TriNoma (7:30 pm) and on April 1 at Market! Market! (4pm) and Alabang Town Center (7 pm).
The last time the band was in Manila was in January 2016 for the #3LOGYinManila concert with their label mates The Vamps and Before You Exit at the SM Mall of Asia Arena.
The Tide members announced during their March 29 press conference at the Hard Rock Cafe, Makati City that they will soon release their full-length album.
Drew told the Philippine press, "It's definitely new, new sound from us four... and it's definitely like a lot of new sounds, a lot of everything we liked from the first time we released [a song] until now..."
Nate added, "It's basically like the coolest thing ever."
Levi promised that the long wait will be worth it.
He said, "Fans have been waiting for about two years for it. It took us a very long time. I know they're very anxious to hear it but they waited two years for a reason because we've been choosing the best songs out of a hundred of the songs we've written. It's just all the best songs. I mean, I think, they'll like it, hopefully."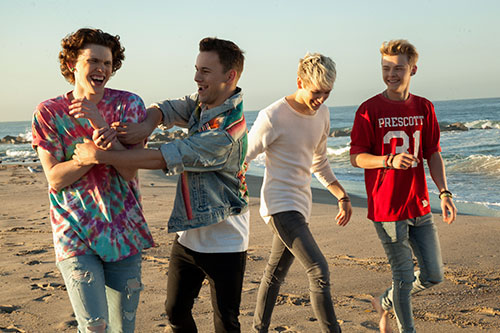 BEFORE THE TIDE. The Tide, which was formed in February 2015, is currently signed with Steady Records, the same record label behind The Vamps.

Austin joined The X Factor US back in 2012, while the others were scouted through their YouTube covers.
Drew recalled, "We're all found on YouTube, Austin promoted with the Vamps, and the Vamps' management put us all together. We all flew out to L.A., we all just kinda tried out and see if we could all be cool together, like friends mainly. And we just meshed right away, so that was pretty much our like our driven and ever since, the four of us have been rocking out."
After two years, the members of the quartet have learned so much about each other. They consider the first time they met as a group as one of their most memorable moments.
Austin recounted, "I would say the first like time we ever met, Levi was hanging out with this other kid who is trying to be in a band. I don't know what happened, you guys like played 'What Are The Odds?' or something… He had to jump in the pool in his underwear…"
Levi added, "It was like one in the morning, and the pool was closed, I did hop the fence and jumped in the pool."
Austin continued the story, "He basically ran away with Levi's clothes, and he's just trapped in the pool naked."
Levi ended, "And locked the door… I was trapped outside the door freezing, the door was locked, I tried to get in there. Finally, they let me in, they're filming the whole thing. I was like, 'Okay!'"
One thing that put the group together was their love for American rock band All Time Low.
Levi recalled, "All Time Low music.. I remember we're in Austin's car driving to like Chipotle…"
Austin continued, "We had Chipotle every day, every day!"
When asked how much they have learned about each other, Levi answered, "I think we know everything about each other now. Literally everything about like we can probably all embarrass each other so much right now."

ALL ABOUT THE FANS. After releasing two singles, The Tide has gained a strong fan base. The band didn't really feel their popularity until they performed in the United Kingdom.
Levi narrated, "Honestly, the first it sunk in was when we flew to the U.K., we didn't expect anyone at the airport at all."
Austin continued, "Our managers were like... "

Drew interjected, "'Maybe one day you'll have fans at the airport.' And there were fans there the second we arrived!"
How do their Filipino fans differ from fans from other countries?
Levi confidently answered, "Definitely the loudest!"
Drew agreed and recalled once instance when they felt the love of their Filipino fans.
"We have those in-ear things, and like pretty much it lets us hear our instruments and through those you can hear the fans like screaming."
Drew ended, "That's hard to do but… definitely the most passionate."
Pinoys might be their loudest fans but their Spanish fans definitely left a mark on the band.
Austin recalled one of their craziest moments with a fan from Spain and recalled, "Probably in Spain when that mom… There was a mom, I don't know if she wanted a picture for her daughter or for herself, we don't know but she just grabbed him [Levi] basically."
Levi quipped, "Moms dig me. She wouldn't let go of me."
Austin continued, "She just like grabbed on to his shoulder and he was like running and Davey had him by the hand and he was pulling him into the van but there was this big curb, so she was just hanging on to him and [fell] with her kid."
Nated chimed in, "She was okay, thankfully."
To end the interview, PEP asked the band members for messages for their Filipino fans.

Drew said, "We love you guys, we wouldn't be here without you.
For his part, Austin told Pinoys, "Honestly, thank you so much for the support. You guys are 100% the reason why we're here."
Nate finished, "We hope you have us back!"