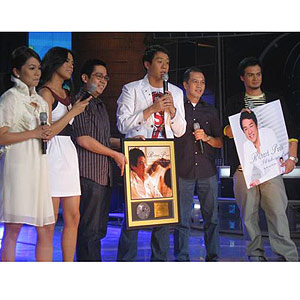 ---

MCA Music and Cornerstone Music are proud to announce thatRichard Poon's debut album I'll Take Care of You is certified Gold. Thebig band crooner received the Gold Record Award during the September 14 episodeof ASAP '08. Nine months from the album's market release, I'll TakeCare Of You has turned gold by selling over 12,500 units.
In celebration of the album's overwhelming success, MCAlaunches the I'll Take Care Of You Platinum Edition. This 2-disc set includesthe best-selling album, bundled with the minus one versions of his well-lovedrepertoire. With the Platinum Edition, you can listen to the hits and singalong to them at the same time.
Richard Poon is the Philippines' big band crooner who has beentouted to be this generation's Jose Mari Chan. Richard's mother is a well-knownopera singer from Taiwan and his father a famous basketball player and cookfrom Hongkong.
He recorded and released his first solo 13-track album I'llTake Care Of You this February 2008 under MCA Music. Richard calls hismusic "fresh old-school."
The album boasts of livelier, highly energized, andrefreshing takes of well-loved '50s "standards" from Frank Sinatra,Tony Bennett, Matt Monro, Harry Connick Jr. and the like. But the mainhighlight of the album showcases Richard's premiere strength as a crooner/balladeer as he captures and romances the heart of his listeners with histimeless love songs.
Unknown to many, Richard (together with his piano playerOsen Fernando) arranges his own music, and continues to delight and surprisehis younger audiences with his unexpected "Big Band" arrangements ofcontemporary covers like Beyonce's "Irreplacable," Rihanna's"Umbrella," Sean Kingston's "Beautiful Girls," MariahCarey's "My All," Avril Lavigne's "Complicated" and morehits with his four-piece jazz band.
ADVERTISEMENT - CONTINUE READING BELOW
Despite being a newcomer in the music industry, in less thana year, Richard has already received major nominations in two of the country'smost prestigious awards including the 2008 Awit Awards, going up againstlegendary icons Gary V, Martin Nievera, and Jose Mari Chan as co-nominees inthe Best Male Artist category and Best New Male Artist. In the 2008 AliwAwards, he was nominated in the categories Best New Artist and Best Male Hotel& Lounge Performer.

Further solidifying his musical artistry, Richard left the audience in aweduring his first two-night major solo concert at the Music Museum last May 1and 2 produced by ASAP Live.
Unlike most crooners, however, Richard is also an excellentsong writer and arranger who writes diverse original compositions like theenchanting and light-hearted lullaby "Lalala" used in the moviesoundtrack of the Piolo Pascual/ Regine Velasquez film Paano Kita Iibigin,and most recently, another RP original "Kahit Di Mo Napapansin" usedin ABS-CBN's new My Girl teleserye soundtrack with Kim Chiu as leadcharacter.

Just last month, he wrote a song for the 11-year-old young international star,Britain's Got Talent finalist Charlie Green, which will hopefully be apart of his forthcoming album. Richard is also blessed to be included in GaryV's tribute album with his big band version of "Wag Mo Na Sanang Isipin" as thecarrier track.
Currently, Richard continues to be a resident artist ofEastwood City every Tuesday and regular guest in ABS-CBN's Sunday noontimeshow, ASAP '08. He has also one of the most sought afterperformers for corporate events, weddings and private parties.

From October 3 to 7, he'll be in Sydney, Australia to perform for the Filipinocommunity in the Fiesta Kultura 2008 courtesy of ABS-CBN's The Filipino Channel(TFC) with Cesar Montano, Pooh, and Nikki Gil. On October 25, he will have afundraising concert at the SM Megamall Cinema at 8 pm with Ai-Ai delas Alas andbossa nova singer Sitti.
ADVERTISEMENT - CONTINUE READING BELOW
Grab a copy of I'll Take Care Of You PlatinumEdition, a two-disc CD that is available in all major record bars for onlyP350.


Also, watch the premiere of Richard's music video "Kahit Maputi Na AngBuhok Ko" directed by Wincy Ong on September 21, 9 PM on MYX.