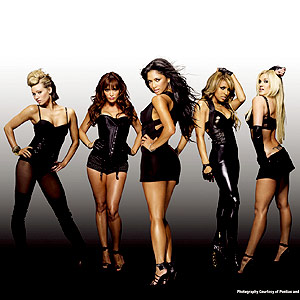 ---

After the success of their debut album, the Pussycat Dollsare back with only one goal in mind—domination! The second album of thePussycat Dolls, titled Doll Domination, will be released this seasonspearheaded by the single that got youngsters and oldies alike completing thestatement "When I Grow Up!"


The single created so much anticipation that it dominated radio charts forseveral weeks in a row. It has also been the music of choice for several localTV shows. Clubs has also been playing remix after remix of this hip-hopsingle.
The Pussycat Doll vibe continued in their collaboration withR. Kelly titled "Out Of This Club." This ditty received massive airplay evenbefore its release. Yet, more credit should be allotted for their newestsingle, "I Hate This Part" which is reminiscent of the slow, sexy, yet sincerevibe that gave past chart topper "Stick With U" a seat in the Pussycat Dolls'hit list.
Though Doll Domination still shows liberated side ofthe Pussycat Dolls, it is hard to ignore the changes that this record possesthat truly defined the growth that the sexy group has developed in their shortand successful stay in the music industry. Their colorful career has been marked by collaborations with R. Kelly, Timbaland, Missy Elliot, among others.
Though the Pussycat Doll's line-up has changed with theabsence of Carmit and the addition of Asia as the winner of reality TV show"Search for the Next Doll," the spotlight moves from lead singer NicoleScherzinger to the rest of the Pussycat Dolls members to showcase theirindividual talent that clearly makes up for this significant absence. TheDeluxe edition includes a bonus disc that contains songs sung by each of thePussycat Dolls. It also includes the supposed first single of NicoleScherzinger's postponed album, "Baby Love" and a unique rendition of "Perhaps,Perhaps."
The newest album of the Pussycat Dolls, Doll Dominationis available in CD and digital download. Head to your favorite Odyssey,Astrovision, Music One and Fully Booked stores to get your own copy of DollDomination Deluxe inclusive of a special bonus CD or its budget friendlySpecial Philippines Edition. Doll Domination is brought to you by MCAMusic Inc.
ADVERTISEMENT - CONTINUE READING BELOW