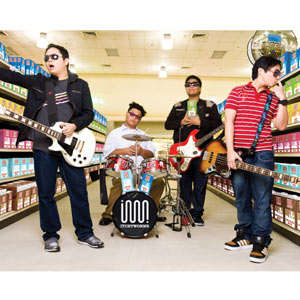 ---

Itchyworms' carrier single "Penge Naman Ako Nyan" from theirnew album Self-Titled generated a lot of buzz when it was first released. Not onlydid it top the NU 107 music charts for weeks and got heavy rotation from topradio stations around the country but also became talk of the town for itsmusic video. Directed by young filmmaker Quark Henares, the celebrity-studdedvideo features unforgettable funny scenes with the band as lead characters.
Now armed with a new single called "Freak-Out, Baby,"Itchyworms is set to conquer the malls with their Self-Titled album tourhosted by Sony BMG Music Entertainment and FG Revolution Denim. Get ready asthis month's MTV Artist of the Month sings cuts from their major label debut onSeptember 28 at SM Southmall, October 11 at SM Dasmarinas, October12 at SM Pampanga and October 19 at SM Lipa. All shows start at 4 pmwith up-and-coming band Roots of Nature serving as the front act.
Band members Jugs, Jazz, Kelvin and Chino will personallysign copies of their album (being sold at the venue for P285), which comes with a freeposter. Audience members of the mall shows can expect lots of games andsurprises from sponsors.
The band will likewise visit WellCom stores after their mallshows on September 21 and October 12 so fans can avail of their musictogoservice-legal downloading of Itchyworms' music from their new album at affordable prices.
Self-Titled
isstill available at leading record stores nationwide under Sony BMG MusicEntertainment.