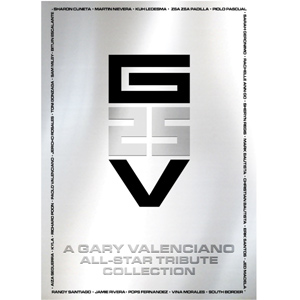 ---

Well-known singers of the music industry give tribute to theman that has served as an inspiration to many and who has always beenconsidered as an embodiment of a total performer—Gary Valenciano. The singerwho has recently celebrated his 25th anniversary in the music scene received anall-star tribute collection featuring the greatest hits of Mr. Pure Energyhimself. The double-disc album called GV 25 (A Gary Valenciano All-StarTribute Collection) is released by ABS-CBN and Star Records.
Respected artists from the music industry were honored totake part in the GV25 album rendering their own version of Gary V'stimeless songs namely: Kyla ("What More Can I Say"), Jamie Rivera ("LettingGo"), Sheryn Regis ("Pasko Na Sinta Ko"), Jericho Rosales ("Di Bale Na Lang"),South Border (Laughter All The Time), and Bituin Escalante (Take Me Out Of TheDark).
Gary's fellow ASAP performers made sure to contributetheir own interpretation of his songs. These include Erik Santos ("Gaya NgDati"), Mark Bautista (You Got Me Working) , Christian Bautista (After All),Rachelle Ann Go (Paano), Sarah Geronimo (Kailangan Kita), Zsa Zsa Padilla (IkawLamang) , Kuh Ledesma (Could You Be Messiah), Jed Madela (Until Then), andRichard Poon ("Wag Mo Na Sana Isipin").
Concert King and Queen Martin Nievera and Pops Fernandezrendered their take on the songs "Narito" and "You Got Me Working,"respectively. Young stars Toni Gonzaga and Sam Milby were also tapped to sing"Wait Forever" and "Each Passing Night" for GV 25.

Randy Santiago ("Eto Na Naman"), Piolo Pascual ("How Did You Know"), AizaSeguerra (Fool 'Til The End), Vina Morales ("Natutulog Ba Ang Diyos") and Ms.Sharon Cuneta ("Sana Maulit Muli") also gave their own contributions for thealbum.
Finally, the renowned singer-dancer also got a tribute fromhis Paolo when he sang "Look In Her Eyes" for this historic compilation.


Top-caliber performers praised Gary Valenciano for hisprofessionalism, his innate talent in entertaining people and most importantly,his inspiring personality.


"Gary V. is the most dedicated artist in the business," declares MartinNievera. "His musicality is unmatched. He memorizes every beat and every lyricand if you're not careful, he will memorize your beats and lyrics too. It's anhonor to share the stage with him, but an even bigger honor to sing one of hisclassics. Gary is more than a friend, he is our spiritual hero."
ADVERTISEMENT - CONTINUE READING BELOW
Pops Fernandez thinks this is the right time to remindFilipinos about the greatness of Mr. Pure Energy. "It's always an honor to be apart of Gary's work and this new album is no exception. It's about time a newgeneration of listeners get to listen to and appreciate the legacy that Garycarved in the OPM industry. I've had the good fortune of doing a remake of'Reaching Out,' one of the first hits that Gary recorded. I love that song. Igrew up with it and it brings back a lot of wonderful memories."
Megastar Sharon Cuneta had this to say about her fellowsinger: "I can't imagine the Philippine music industry without Gary Valenciano. When yousay Mr. Pure Energy, that really means so much more that what it initiallyseems to mean. Gary is an institution at such a young age. He's a huge, hugesuperstar and has brought our country many honors."
During the surprise party organized for Gary V last August6, the 44-year old singer expressed his gratefulness for all the singers andthe organizers of the tribute album. Click HERE to read related article.


Grab a copy of GV 25 All-Star Tribute Collectionunder ABS-CBN and Star Records and hear the new versions of Gary V's best hits,available in record bars locally and internationally.