American band LANY—composed of Paul Klein, Jake Goss, and Les Priest—returned to the Philippines for the second time this 2017.
The California-based trio is scheduled to perform five 45-minute live shows at different Ayala Malls starting today, August 4, until August 6. This comes after their successful stint at Wanderland Music and Arts Festival 2017 last March 4.
PEP.ph (Philippine Entertainment Portal) and other members of the press learned more about the band at a press conference held earlier today, August 4, at the Holiday Inn Hotel in Makati City.
Les, the keyboardist of the band, said they were very excited upon learning that they'll be coming back to Manila, four months after their first visit.
He enthused, "I couldn't wait! Our first experience here is insane and so we're like it's gonna be crazier when we get back and we hope that. So we're all very excited."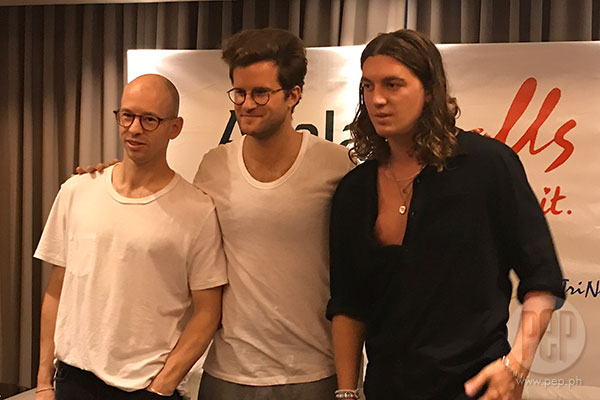 For his part, Paul expressed how much he appreciates their Filipino fans especially after everyone sang along with them during their Wanderland performance.
The 29-year-old musician said, "Filipino fans are super sweet and very engaged and very excited which is what we want out of many things."
Jake, the band's drummer, added, "[Filipinos are] so joyful!"
Their Filipino fans definitely made a mark after their first visit, and even made it to the band's list of most memorable places they've been to within 15 months of touring.
Paul recalled, "When we got here in March, and just being here for the first time... It's our first time in Asia ever and so we're still discovering it and learning it."
Their other favorite places are located in Europe.
Paul noted, "I do like London quite a bit. At first, I like really loved it and didn't really love it and kinda fell back in love with it. It's one of those cities that are so culturally diverse."
Les continued, "The Scandinavian countries are really beautiful."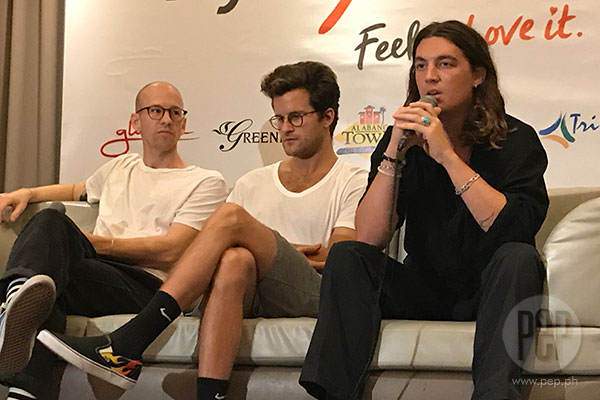 As for their concert, LANY is expected to perform songs from their self-titled debut album.
The band members were asked regarding their pre-concert rituals.
Paul answered, "Not really, sometimes I just let my hair down. Jake warms up and we do a team huddle before we go live and that's about it."
With all their five scheduled live shows through the weekend being sold out, the band is more than willing to come back and perform for Pinoy fans at a bigger venue.

Paul said, "We'd love to come back here and play at the arena."
Les agreed, "We hope that every time we come back, it gets bigger and bigger."
PEP also asked if they're familiar with any Filipino artist.
Paul answered, "I'm not familiar with any Filipino artist other than, we heard about a lady named Lani [Misalucha], who is kind of like Lany."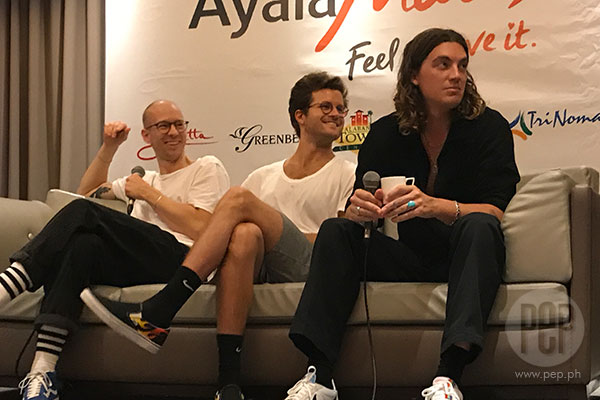 LANY. LANY is actually an acronym of Los Angeles and New York. The band was formed back in March 2014 after Paul met up with Les and Jake, who were both members of a different group at that time.
The three-piece band said they just wanted to make music as a group when they started and didn't even think of which genre they would pursue.
Les recalled, "We're just, 'Let's make some sounds and see what we come up with.'"
He continued, "When we came up with this, it's just LANY. We gotta stick to it."
LANY released their 16-track album last June 30, after releasing three extended play albums in the past three years.
The band said they just created music from everything that inspired them during their 15-month tour and didn't even think of a single theme for it.
Paul said, "We didn't start out like, 'Here's the concept, and here's the theme...'
"Really, the theme is just human life and human emotion, and quite a bit of our ups and downs, from day to day.
"It was written over the course of 15 months. In 15 months we played, at 117 shows or more.
"So a lot happened on the road and we see a lot, heard a lot.
"And when you get home, you have a chance to sit down and articulate everything that you just walked through."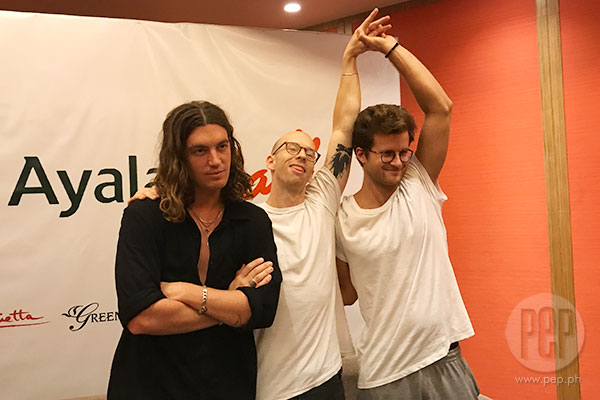 Jake revealed that the band's writing process varies for each song.
He pointed out, "It's kinda different for each song. Sometimes, we start with just like a drum groove or like a chord progression.
"Sometimes, even Paul has lyrics so each song is kinda different [and] we just build from one idea."
Paul's favorite track in the album is "Super Far" which he dedicates to his Filipino fans.
Meanwhile, Jake's favorite is "Tampa," while Les had the song "Hurts" on top of his mind.
Catch LANY perform live at Glorietta on August 4, 7PM; August 5 at Greenbelt, 3PM, and Alabang Town Center, 7PM; and August 6 at Market! Market!, 3PM, and Trinoma, 7PM.