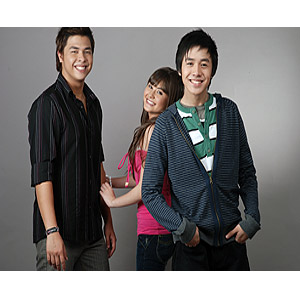 ---

Teen heartthrob Sam Concepcion celebrates his 16th birthdaythrough a major solo concert titled I'll Find Your Heart at the MusicMuseum on October 18, Saturday, at 8 p.m.
Sam is dedicating this special occasion to all his fans."This is really for them, especially the Samsters," he says."It's my way of saying thank you for all the support that they've given meever since I started in show biz. They've always been there for me."
"I never really dreamed of becoming a singer or anactor," Sam declares. "Even when I was just a kid, I'd just sing ordance. I didn't expect any of these to happen but they just did. So I considerthem as blessings." That's why on his 16th birthday, he is sharing thesegifts with other people. "That's how blessings come," Sam continues,"by giving it back to the One who gave it to you and by sharing thesetalents with others."
The concert will actually feature the many facets of Sam'scharacter and showcase what he has already achieved as an artist through theyears. Sam will be singing a variety of songs that will include some singlesfrom his album, theme songs of the TV series that he has done, contemporary,pop and novelty songs.
Expect Sam to sing his remake of "Even If," a song that isextra-special for him since this is his first carrier single and it became aninstant hit with the help of his supporters. However, Sam finds it difficult tosingle out a song as his favorite for he listens to a wide range of genre andartists. "Sometimes you find a musical element that's beautiful in thissong, and sometimes in another," Sam explains, "so I can't really pickone and say that this is my favorite." This is also reflected in thedifferent artists that he emulates, which include Gary Valenciano, ChristianBautista, Billy Crawford, Justin Timberlake, and Michael Jackson to name a few.
ADVERTISEMENT - CONTINUE READING BELOW
Sam will also perform selected numbers from stage musicals Footlooseand High School Musical where he will be singing with Cheska Ortega.She was his love interest in the play High School Musical and in the soap ILove Betty La Fea.
Although every time Sam is asked about Cheska, he alwaysanswers, "we're really good friends." But he is quick to respond thathe easily gets attracted to a girl's eyes, and he admires Cheska for that, notto mention her sweet voice and beautiful smile.

Right now, Star Magic and STAGES talent Sam is concentratingon his studies and career and love is taking the backseat. He reveals that heis not yet ready to find someone else's heart. "But if she comes my wayfirst and knocks on my door, I'll gladly open and let her in to my heart,"ends Sam with a smile.
While Sam is very busy preparing for his birthday concert,he is also busy taping scenes for I Love Betty La Fea. A second album isalso in the works under Universal Records. He is also a regular in TV 5's teendrama Lipgloss and a semi-regular in ABS-CBN's ASAP '08.
On October 18, Sam will also be joined by Pinoy DreamAcademy's Iñaki Ting and Bea Muñoz, 24 Beat Dancers, Fairground band andother surprise guests. I'll FindYour Heart is produced by STAGES under the musical direction of CrissBuenviaje and the direction of Audie Gemora.
For tickets, call the Music Museum at 721-6726 or 721-0635,or Ticketworld at 891-9999. Tickets are priced at P300, P500, P700, and P1000.