Five-member K-pop group B.I.G. (Boys In Groove) is back in Manila and this time, it's for a solo concert!
The members of the South Korean pop boy band—Gunmin, J-Hoon, Benji, Hee Do, and Min Pyo—are all set for their The B.I.GINNING Tour Live in Manila this Saturday, September 2, at the Music Museum in San Juan City.
During their press conference held last August 31, the members expressed their excitement to meet their Filipino fans again.
Benji, who speaks fluent English, told the press, "We're really, really, really excited to be back in the Philippines. The last time we were here was for Super Pop Concert, and for us, being in the Philippines is seeing the amount of response and reactions that they kind of gave to us was just an amazing experience.
"And so one thing we really looked forward to after that day was coming back here and perform for the fans as part of the B.I.G solo concert."
He added, "We're preparing mentally... to give the best and most fun and exciting concert for you guys on Saturday."
Asked how would they describe their Filipino fans in one word, both HeeDo and MinPyo associated their Filipino fans with the word "energy" because of their response to their performances.
Benji, on the other hand, used the term "dynamite" to describe their Filipino fans and explained, "Dynamite has an explosive potential and as performers, our job is to light the fuse that allows people to really have a good time."
J-Hoon considers their Filipino fans as their "friends" while Gunmin compared a character that is dear to him to their Filipino fans.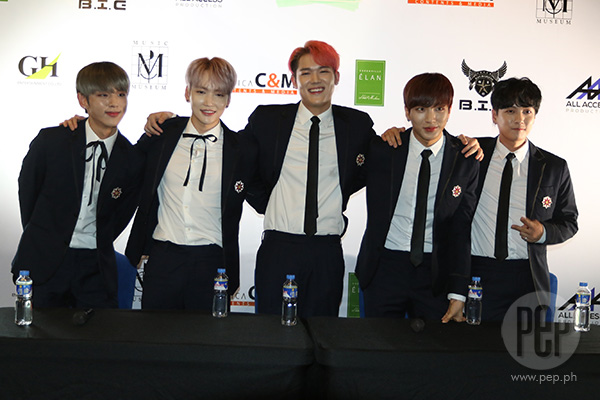 IT'S SHOWTIME. Members of B.I.G. reminisced about their appearance on ABS-CBN's noontime show It's Showtime where they met comedian/host Vice Ganda.
MinPyo admitted that they were a bit nervous but the show's staff made them feel very welcome on the Kapamilya show.
He recalled, as translated in English, "We did a few overseas TV shows so we we're really nervous and really worried about it but all the staff are very kind and they put effort to make us comfortable and other artists in the show are absolutely amazing."
Meanwhile, Benji was grateful to have appeared in "one of the biggest shows in the Philippines."
"Before we did Showtime, we were in the dressing room and our staff told us that this is one biggest shows in the Philippines. The viewer ratings of this program is just off the charts."
Benji continued, "One thing that really stood out is the very interesting character, Vice Ganda. I really think that it was a really, really fateful meeting that it made me think a lot about how my life's been coming."
If given the chance, he and his group would be very willing and excited to do another live broadcast on Philippine TV.
He explained, "It also made me wanna go back on more Filipino broadcast because I really feel that there's a unique quality in the Filipino broadcast that really can only be brought in that kind of style.
"So if given the chance to give a broadcast like that, we'd really love to do that."