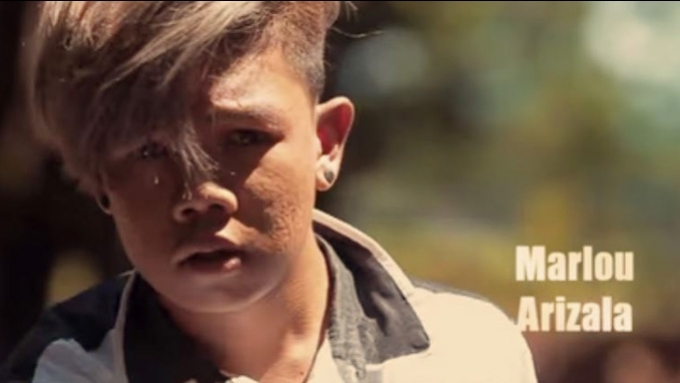 ---
Recently, the internet was abuzz with the alleged leaking of photos with Marlou Arizala's new face post-surgery.

The social media personality underwent a cosmetic enhancement procedure for his nose and chin earlier this month, and his recovery was being documented by ABS-CBN magazine show Rated K.
However, this was preempted by the alleged leak which supposedly shows Marlou on a video chat with a friend.

Marlou, who has since changed his screen name to Xander Ford, denied he is the one in the photos, and uploaded videos of what he says is his current condition: his face swollen, with bandages covering his nose and chin.
As his videos and posts make the rounds on social media, some netizens ask: Who is Marlou and how did he become famous?
Here are 5 Things To Know About Marlou Arizala a.k.a. Xander Ford:
He used to be a member ofHasht5.

Marlou Arizala rose to fame as a member of Hasht5, a boy band parody whose videos became viral in 2015.

Hasht5 means "Have A Succesful Honor and Talent" and 5 pertains to the number of members which, apart from Marlou, included Vincent Binocas, Cee Jhay Ellero, Jhimwell Macanlalay, and Erick Ebreo.
ADVERTISEMENT - CONTINUE READING BELOW
Marlou and Vincent formed the group, and its Facebook page currently has more than 243,000 likes. Their most watched video is when they introduced their new member Cee Jhay. The video has been viewed over one million times.
However, the group became infamous because of all the bashing and hate comments they received from netizens. They were accused of a variety of things: from not taking a bath to being rugby boys, or those who inhale solvent to get high. The boys initially responded to bashers in retaliation, but they eventually learned to laugh them off.
Marlou was among the most targeted, with countless memes created using his photos. He was also dubbed as the "One Pants Man" as he was spotted wearing what looked to be the same pair of pants in several occasions.
Hasht5's love-them-or-hate-them charm got the attention of major networks, and paved the way for their guest appearances on the ABS-CBN programs Rated K,Gandang Gabi Vice, Luv U,and Kapamilya Deal or No Deal. They also performed in the Sunday variety show ASAP.
ADVERTISEMENT - CONTINUE READING BELOW
Marlou left the group and went solo in February 2016.
He was a former choir member.

Before creating Hasht5, Marlou and Vincent were both members of a church choir. Marlou was also a part of their community theater group and attended several acting workshops. He also claimed he had experience in modelling.




In this video, Marlou is seen dancing to Jake Miller's "Dazed and Confused." When Marlou uploaded this on his old Facebook account (which has been taken down after he changed his screen name to Xander Ford), he said it reached up to 24 million views. This one, from Hasht5's YouTube channel, has 24 thousand views.


He used to be a cigarette vendor.

Marlou used to be a working student. He would sell cigarettes to earn money for school tuition and his allowance. After dropping out of school, he is now the family breadwinner.

In a 2016 interview with Tapatan Ni Tunying, he said he works hard to provide for his father and his then-pregnant sister. They used to move around places without paying rent, but after gaining fame and being able to work as an entertainer, the 20-year-old celebrity has been able to pay rent for their home in Cavite.
ADVERTISEMENT - CONTINUE READING BELOW




Marlou's cover of Bruno Mars' "Versace on the Floor," which he sang in what appears to be a bathroom, and with hardly any clothes on.


He has appeared in several TV shows and even had a cameo in a movie.

Marlou had always been vocal about his dream of becoming an artista. And because of his group's, popularity on social media, it paved the way for him to realize it. As arguably the most famous among the Hasht5 members, Marlou was invited to guest in different TV shows even before he left the group and went solo.

This included the teleserye Dolce Amore topbilled by Enrique Gil and Liza Soberano, the sitcom Home Sweetie Home with John Lloyd Cruz and Toni Gonzaga, and the GMA News TV program Day Off. He even had a cameo in the 2017 comedy film Mang Kepweng Returns.




A video posted by the Facebook parody account of Senyora, based on the villain in the telenovela Marimar. This video Marlou emoting to Kim Chiu's "Mr. Right" has over 3 million views.


ADVERTISEMENT - CONTINUE READING BELOW
He is non-apologetic about wanting to improve his physical appearance.

Prior to going under the knife, Marlou became a brand ambassador for the skin clinic Flawless. He had facials to get rid of his pimples, one of the things netizens target when bashing him.
On September 4, a Facebook account named Xander Ford posted the status, "MARLOU IS DEAD! I'M XANDER, Marry Me or Follow Me?"

It contained a graphic with a photo of a veiled half-skull and a half-human's face that resembledMarlou. The accompanying text said: "Marlou Arizala, May 1997 – Birth September 2017 – Death."
The September 10 episode of Rated K detailed Marlou's surgery. "Oo nga dito ako nakilala," Marlou said about his looks and his decision to undergo cosmetic enhancement. "Pero may pangarap ako. Pangarap ko na yun nga, yung magbago ako. Kasi lahat naman ng tao nagbabago."
He added: "Gusto ko, ipakita ko sa tao na yung dating Marlou na nilalait nila, kahit laitin nila ngayon, hindi na yun yung ako."
ADVERTISEMENT - CONTINUE READING BELOW
The 6-hour operation was done by Dr. Samuel Eric Yapjuangco of The Icon Clinic, and held at the Marikina Doctors Hospital and Medical Center.
His managers explained Marlou's new identity post-op.

"Kapag nagbago ka ng mukha, it should follow na magbago rin yung pangalan mo, yung personality mo," said Vince Abasolo, general manager of Star Image Artist Management. "Xander is parang [a] very pogi name, 'tapos dagdagan mo pa ng Ford, very class. So parang yung branding kay Marlou that's what we want to achieve."

There was no mention if Xander will remain with his new group Teen Trends after he has healed from the operation.
The Rated K segment was uploaded on the show's Facebook page and has been viewed over 4.3 million times.





Marlou owning his pimples and throwing shade at his bashers. The video has over 148,000 views on YouTube.