British pop-rock The Vamps is currently in the Philippines for its fourth concert in Manila.
The band—composed of Brad Simpson (lead vocals and guitar), James McVey (lead guitar and vocals), Connor Ball (bass guitar and vocals) and Tristan Evans (drums and vocal)—will hold its Middle Of The Night Tour at Luna Drive, Ayala Malls Vertis North, this Friday night, October 6.


British pop trio New Hope Club—composed of Reece Bibby, Blake Richardson, and George Smith—will be the opening act at the concert of The Vamps.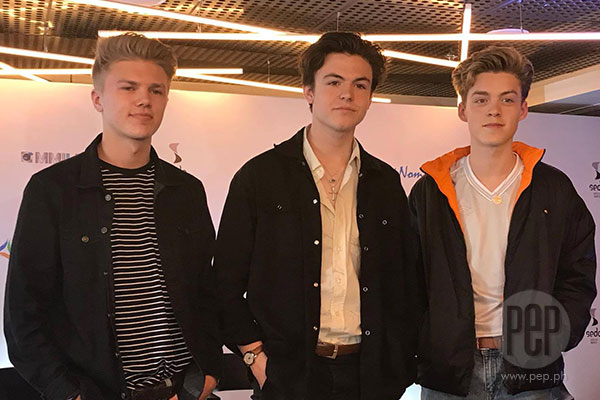 PEP.ph (Philippine Entertainment Portal), along with select members of the press, interviewed The Vamps during their October 5 press conference at Seda Hotel in Quezon City.
James McVey said fans can look forward to live performances of their latest songs, including "All Night" and "Middle of the Night."
He told PEP, "Our third album, we've never played our third album before, so new music, and hopefully they'll enjoy it."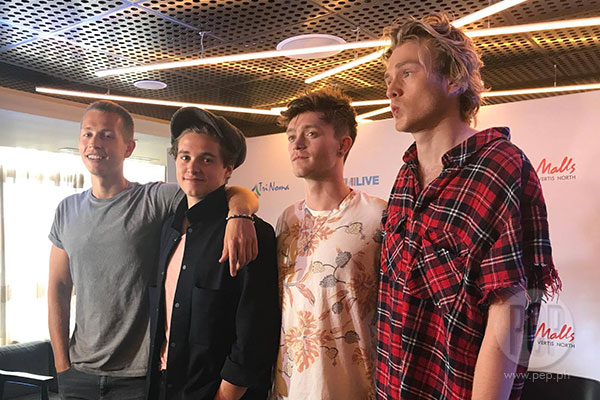 FOURTH CONCERT IN MANILA. Since the band members have visited the Philippines four times already, they were asked to recall their fondest memory of the country.
Brad Simpson considered their last visit to Manila the most memorable one. He recalled, "They were standing on their seats at the Mall of Asia Arena, and that was like a really cool moment. The fans are just awesome here, so it's nice to come back every time."
For his part, James said one of his favorite moments took place during their Cebu visit in February 2016.

James narrated, "We went to Cebu, and played at a shopping center over there, and it was like 5,000 people, which is the biggest thing we'd ever done with the fans... that was really good."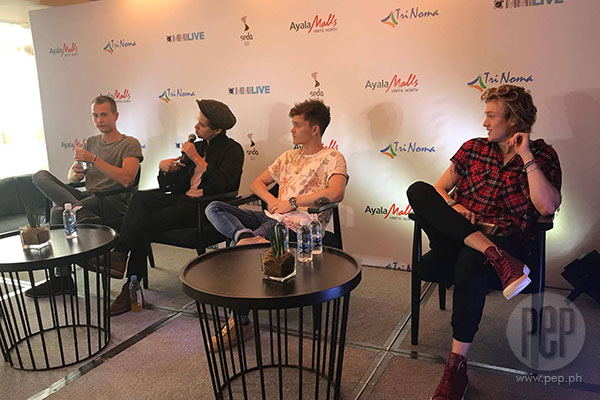 James revealed that his craziest fan moment also happened in Manila.
The 23-year-old musician narrated, "They once broke the barriers in our show in Manila last time, stampede at the venue. Yeah, that was pretty crazy."
Meanwhile, Connor Ball said his last visit was definitely something he wouldn't forget. The 21-year-old band guitarist hurt his knee last year and performed at the 2016 concert while sitting on a chair.
He pointed out, "The hospitals here are good! The last time, it was a shame that I have to go to the hospital. I actually played the show sitting down 'cause I couldn't stand up.
"And even though I was sitting down, people in front of me are still going crazy, which is good 'cause I, obviously, so they did it for me."
Members of The Vamps want to explore the Philippines and visit some of the country's famous beaches.
Brad said, "It's annoying 'cause every time we come here, it's like in and out. The last time we came, we saw Cebu, and like James said, it was beautiful and really nice.
"But we're usually locked up in our hotel and we go after the show. The shows are insane and the fans have been incredible every time, but it'd be nice to maybe come back next time and have a bit more time to go see the beaches."
LIZA SOBERANO. At one point, members of the press asked whether they have plans to collaborate with other artists for their future projects.

Brad jokingly said, "We're gonna try do one with Liza [Soberano]."

James even added, "Yeah, she's gonna sing, maybe rap as well."
When asked whether they know other Filipino artists, Brad said they haven't been introduced to other local celebrities. The 22-year-old band vocalist is grateful that they were able to become friends with ABS-CBN actress Liza Soberano.
Brad said, "We haven't like had enough time to come and immerse ourselves into the culture. So we're very lucky to meet Liza, too.
"She was a fan of the band in the beginning, and now, we've kinda built a really cool friendship with her and see her grow.
"Apparently, she's going to do like the 'Wonder Woman of the Philippines.' That's like really cool to see her progress and grow."

Liza is currently preparing to portray the Pinay superheroine Darna in her upcoming movie.
Members of the press asked The Vamps if they are still in touch with the Kapamilya star and if they invited her to watch their show.
James said he already messaged Liza on October 5, "I texted her this morning. We've not invited her to the show actually... so yeah, maybe I'll mention the show and see if she wants to come."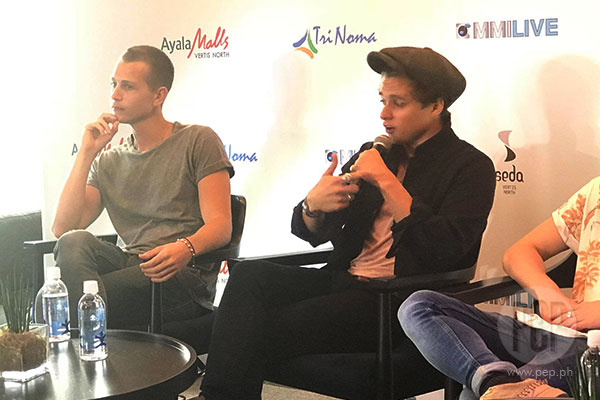 NIGHT AND DAY. The Vamps is currently promoting its third studio album titled Night and Day. Tristan said they wanted to explore a new concept that's very different compared to their previous albums.
Tristan Evans told PEP, "We wanted to create a concept that's kind of easy for people to get. Kind of like, you can hear from the sound and the artwork, and we just wanted to do something different. Not just a stand-alone album, we wanted to do two parts.
"It's quite exciting for us because the process, instead of being a year or two years, it's like three or four years. So I'm excited about that. I'm excited about the Night edition."
Asked to differentiate their music now, Connor answered, "We have drops in it, we can ply it in a club, and it goes off. Instrumentally, it's just very different. It sort of has guitars in it, but they're not as prominent. It's got a lot of synth-pop, as well, and a lot of piano."
Tristan revealed that they are now preparing to release another single in the coming weeks.
He told PEP, "We filmed one, and we're editing it [on October 5]... releasing kind of a new single from... it's kind of an exclusive for you guys. We're releasing a new single very soon from our Day edition.
"It's gonna be coming out in the next couple of weeks so we're very excited about that. Hope you guys enjoy it."