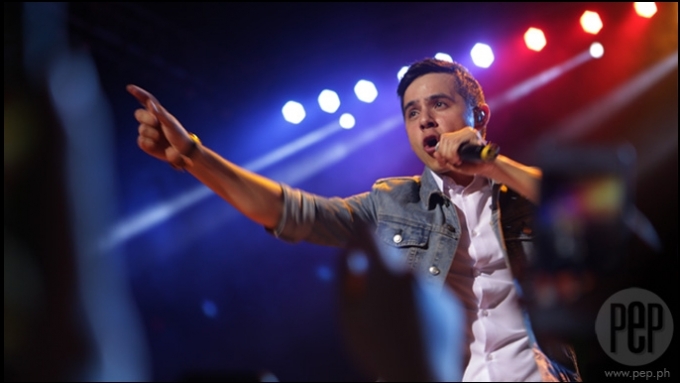 IMAGE Anj Sampayan
---
American Idol Season 7 runner-up David Archuleta cried while serenading his Filipino fans with the Tagalog song "Nandito Ako" during his Manila concert.

Six years since his last performance in the Philippines, the singer made a great comeback via his October 20 concert held at the Kia Theater in Cubao, Quezon City.

He later explained that he was just overwhelmed by the turnout of events.

"I just wanted to say how much it means to be back after been going away, been gone for two years from music and my career.

"I've been taking a few more years to get the strength to get back here.

"For a while, I didn't know I could.

"And to see you here tonight, it just really touches my heart, and the way you treat me this last week and the way you treated me this night, it means so much to me."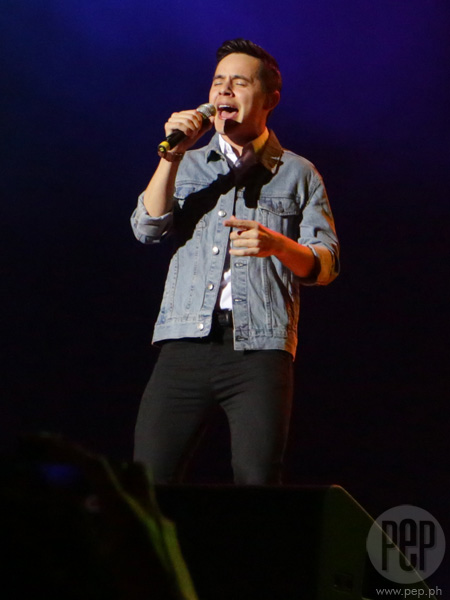 ADVERTISEMENT - CONTINUE READING BELOW

The OPM song "Nandito Ako," which was originally performed by Ogie Alcasid,  became a huge part in David's career here in the Philippines.

It can be recalled that the American singer and actor dabbled in local show business via the TV5 teleserye, Nandito Ako (2012), together with his leading ladies Jasmine Curtis and Eula Caballero.

On that same year, he released his Forevermore album featuring the beauty of Filipino ballad songs. Among the bonus tracks was the previously mentioned Tagalog song.

During his October 20 concert, Jasmine Curtis was spotted at the Kia Theater. David's co-star in the Filipino teleserye was one of the Pinoy concertgoers who watched his one-night-only concert.

The actress came with her boyfriend Jeff Ortega (not in photo) who gamely agreed to pose for photos with Jasmine's fans.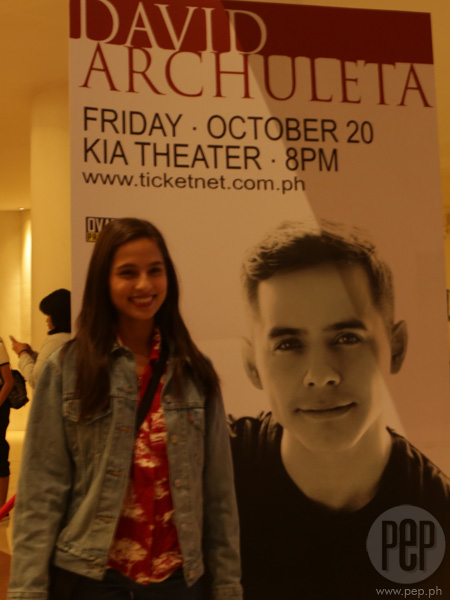 The American Idol runner-up performed his most-loved songs and covers for an hour and a half.

Together with his friend, a guitarist who was simply introduced as Joey, David reconnected with his Filipino fans by singing his songs "Up All Night," "Something About Love," and "Numb."


ADVERTISEMENT - CONTINUE READING BELOW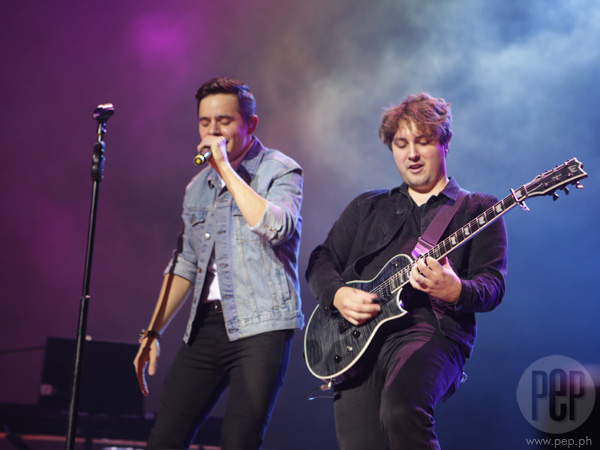 The charming David interacted with his fans by asking, "Kamusta kayo?

"It's so amazing to be here, back [after] a few years, singing, performing after I think six years since the last time I have concert. And it's all good to see you here. Thank you for coming."

The 26-year-old singer added, "Today's a special day for me because today I have a new album… and I like to sing a few more songs for you guys tonight.

"This is crazy, wow."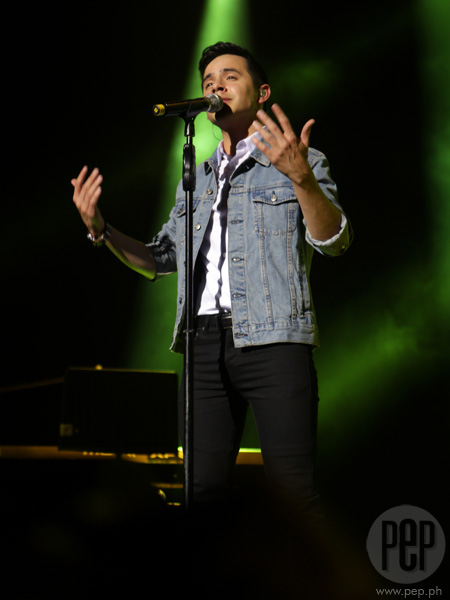 ADVERTISEMENT - CONTINUE READING BELOW

Introducing his next song titled "Invincible," he first asked the crowd, "have anyone ever thought that they were their own worst enemy before?" 

He admitted, "I feel like that all the time, that the only person holding me back is myself.

"And I feel like I have to do everything perfectly in order to thrive.

"It's like no, if I don't do this right, then I'm gonna fail.

"But I'm learning that you don't have to be perfect, you don't have to be invincible to keep trying, to keep moving forward.

"Even if you thought you'd gonna be okay, so this is what the song is about, it's called invincible."
David only managed to rest during his ten-second water breaks.

Still, the musician showed no signs of getting tired as he sang "I'm Ready" and "He Lives in You."

The crowd was in high spirits as soon as the American Idol alumnus started singing his remix of "Parachutes and Airplanes" and "Thunder."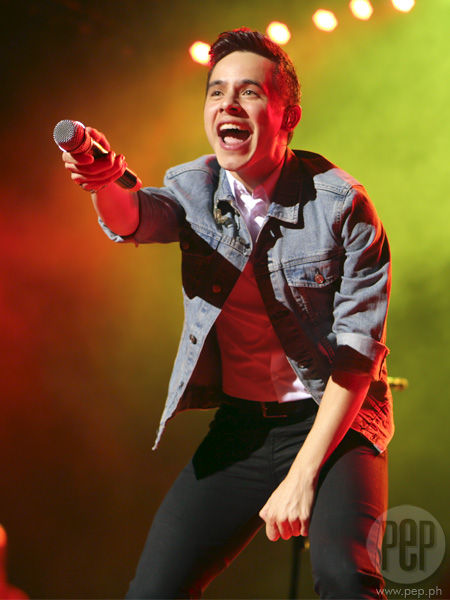 ADVERTISEMENT - CONTINUE READING BELOW
David gave a special treat to Pinoy fans when he played his relatively new song titled "Spotlight Down."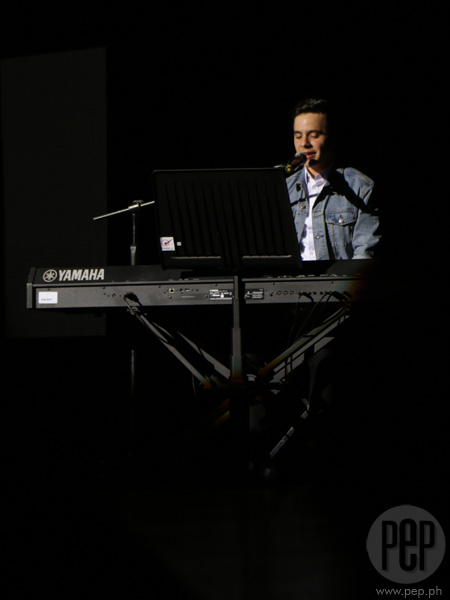 Tippy Dos Santos, who served as the opening act for his Philippine concert, was one lucky girl when he personally complimented her for her singing prowess.

They shared the stage while giving a heartfelt performance of "You Are My Song."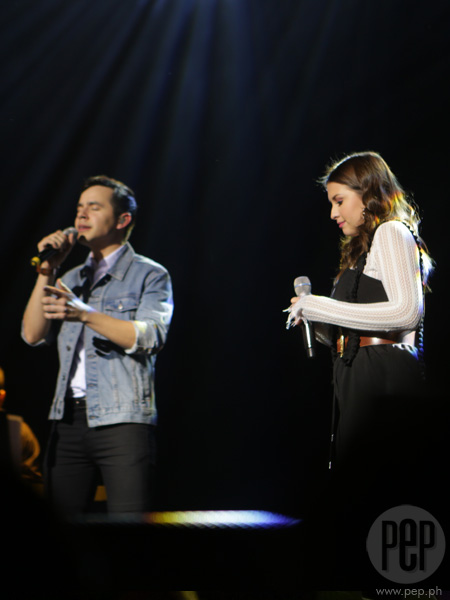 ADVERTISEMENT - CONTINUE READING BELOW
What brought the house down was his version of "Forevermore," which he described as his "favorite love song of all times," South Border's "Rainbow," and Swedish House Mafia's "Don't You Worry Child."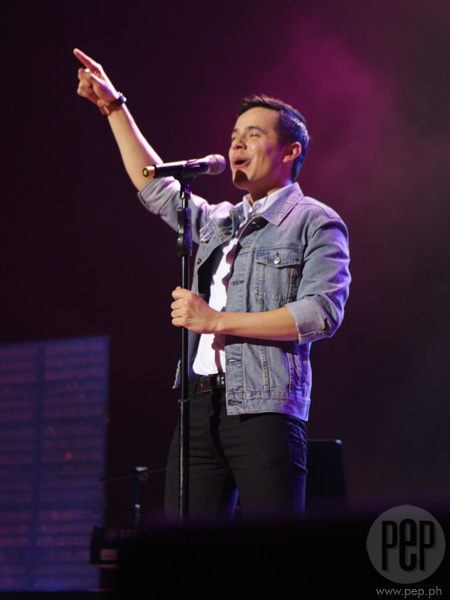 One of the highlights of the evening was when he performed his hit songs "Touch My Hand," "A Little Too Not Over You," and "Crush."

Before his last song, he told his supporters, "I just wanna say how grateful I am for all of you.

"Thank you, Philippines. Mahal ko kayo."

A few minutes after his show ended, David Archuleta bid farewell to his Filipino fans through an Instagram post.

Part of his caption reads: "thank you Philippines for an unforgettable show tonight! I feel truly blessed! Hope to see you again soon!"