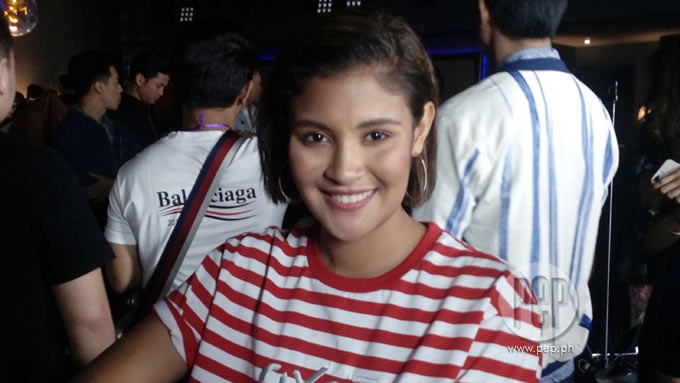 IMAGE Benedict Bartolome
---
It's the first quarter of 2018 and Kiana Valenciano has been a busy artist.
Last month, Kiana and six other stars were invited to Los Angeles Fashion Week but were barred from modelling on the ramp allegedly for being Filipinos.
She describes the experience as "a setback. Thank God I wasn't actually there. I never made it to the venue. But at the same time, I felt really bad for the girls that were already there."
However, she remains positive about the debacle. "I didn't really let it get to me. I loved the empowering vibe afterwards when everyone [after the incident] got together and we were all just pushing each other. It was way better than having walked on the show anyway.
"I saw it as a lesson or a challenge that we just had to get past and move on from. At that moment, I never realized how proud I was to be Filipino."

The daughter of Gary Valenciano adds that she's "just very sorry that that still happens especially at this day and age when we should actually be embracing what makes us different. You should never let that [racism] define you."
The songster and model takes moving on to heart. Last week, Kiana electrified the crowd at the Manila Next fashion event at Cove Manila as the very first song and dance performer. She stepped up on stage in a candy striped top and baggy pants to the cheers of her fans.
With her midriff exposed, she moved to the beat with her stylish red shoes and performed her own song "Does She Know," which she wrote three years ago.
ADVERTISEMENT - CONTINUE READING BELOW
She claims "other people think it's shade talk" but she says it's really about "...standing up for other women..." considering how the theme was inspired by stories from her friends.
Amidst her backup dancers and an every changing backdrop displaying her Oxygen billboards, Kiana sang "Caught U," which she claims is the fastest song she ever wrote.
She had written it in a day, on her plane trip from Boracay. Her last song was "I'll Be There" which was a collaboration with Marcus Davis.
Models walked to and fro while she performed then she joined them up front for their last line up as her segment ended. She returned to the spotlight to give her final wave with fellow Oxygen rep Donny Pangilinan, taking his arm before retiring backstage.
This year, Kiana declares that she is focusing on her music. "I don't have any upcoming projects in the sense that it would be on TV or anything but I am working on my album."
As for appearing in the big screen, she admits, " I'm very open to acting. We [her mom Angeli Pangilinan and management] have been talking about it but I think that I really want my music career to be stable before I venure into new stuff."
Is she open to acting with her boyfriend Sam Concepcion?

"I feel that would be very comfortable," said Kiana. "It would make me feel a little more safe especially if it will be my first time acting."
How about doing a song collaboration with her boyfriend? "That's definitely going to happen. There's no doubt about that."
ADVERTISEMENT - CONTINUE READING BELOW
This revelation is followed by a "We'll see. I mean, maybe on the [upcoming] album, maybe a single."
Kiana relates her relationship with Sam with an easy smile "We're good. There's been a lot of traveling lately but y'know absence makes the heart go fonder... As cliche as it is, I wish he was here right now [at Cove Manila] because he has a way of calming me down when I'm nervous but at the same time, I'm happy for him. I'm happy his career is going up right now...In terms of our personal life, everything is going smoothly."
What's Kiana's message for her fans?

"Thanks for all the support! I hope you guys stay tuned for all the music I'm going to be releasing soon. Thanks for the all love! Be kind!"