Bruno Mars clearly has the voice, the hits, and the moves.
On May 3, 2018, he gave his Manila fans all these and more during the first of his two-night concert at the Mall of Asia Arena produced by MMI Live.
In front of a packed venue of young and not-so-young fans, Bruno Mars and his gang of dancing musicians and back-up singers gave an electrifying performance loaded with loud, beautifully orchestrated fireworks and engagingly choreographed dance steps.
The concert was relatively short, kicking off at 9:14 and wrapping up before 11 pm. He performed with The Hooligans for not more than 15 songs, yet most of them hits and spiced with cool moments to recall.
With his mates wearing classic NBA jerseys and him donning a Dodgers uniform featuring baseball catcher Mike Piazza who played for the team in the '90s, Bruno Mars entertained concertgoers with his steady vocal energy, snappy movements, and his distinct smile.
"I've never seen so many camera phones raised up in my whole life," he mused, having observed the sea of people holding up their smartphones obviously to video-record his live performance.
The international singer-songwriter then gave a reminder for everyone in the arena: "This makes me a little scary, you know. Because that means you can't dance if you're trying to get a shot."
That's the kind of playful interaction that the 32-year-old Hawaii-raised performer displayed during this Smart Music Live summer concert event. It is part of the Asian leg of his 24K Magic Tour promoting his third and latest album, XXIVK Magic.
The last time Bruno Mars performed in the Philippines was in 2014 for his Moonshine Jungle Tour.
For a big concert featuring a major global star, seeing the band members wearing jerseys all throughout might make people think that the performers were dressed down for the occasion.
However, judging the kind of performance and wit they delivered, it was evident that the Hooligans are musicians who can really dance so they were actually giving more than what was expected of them.
Bruno, with his undeniable charm and sex appeal, was trying to blend himself with the "jersey" boys while at the same asserting himself as man of the hour at proper sequences.
The grew up influenced by Elvis Presley so it was not surprising that he knows "the moves" to make the girls swoon.
For some reason, the standing VIP crowd, at least, had to figure out Bruno's singing during upbeat songs because it seemed like his voice was being drowned by the heart- pumping instrumental accompaniment. It's a small worry though for a grand party atmosphere.

Bruno sang in Tagalog, "Miss na kita, mahal."
Once the music toned down, Bruno's vocals soared high in all its pained glory, especially when he sang "Versace On The Floor" and "When I Was Your Man."
It's a pity that several in the audience couldn't keep themselves from singing along even to a ballad number where Bruno's voice should had been left all alone. Such moments are the perfect time to listen fully to a first class artist rendering his hit song live, hang on to his every note, and then applaud afterwards. There's not much logic to paying for your ticket and then singing loudly off tune (apparently with your idol) and irritate the next person beside you who is seriously listening and savoring the moment.
But Bruno sure is a sport and he appreciates all the love from the crowd. He's naturally good at cracking a joke or two without sounding offensive. At one point, he gathered his mates on the left side of the stage and spoke to the people seated or standing that side of the venue. He teased, "It's crazy coming out here and we see people sitting down. Nobody jumping and nobody dancing."
Then on cue, the music resumed and everybody was up on their feet. The guy, whose mother Bernadette San Pedro Bayot was of Filipino ancestry, truly knows how to party.
Bruno Mars' impeccable songwriting is evident in the repertoire last night, with songs like "Treasure," the Grammy-winning "That's What I Like" and "Marry You" wherein he showcased himself playing the guitar. In a touching gesture, he kissed his guitar after playing.

One great song curiously passed over is "Grenade." He should have sung that piece of pop genius.

At the after-show party held at Chaos Bar in the City of Dreams, Bruno (whose real name is Peter Gene Hernandez) did shortened versions of his most notable songs.
He spoke to the crowd in the same tone he had at the MOA Arena. "I'm gonna be honest with you guys. We've never been to a place and see this many people not dancing. Manila, can we change that right now?"
Again, that was partly because most people were busy holding up their phones and taking videos. Not that he did not want to be filmed but he wanted people to feel more relaxed.
Back inside the MOA Arena, he did politely ask, "Maybe just this night one, everybody put their phones down and dance."


Jessy Mendiola and Luis Manzano were among the couples spotted at the first night of the concert. In her Instagram stories, Jessy posted her photo with her boyfriend and wrote: "Hey you, i think i wanna marry you."
Is this a sign of their impending wedding?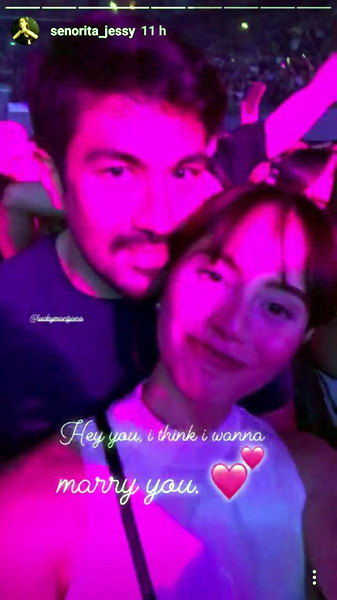 Another celebrity who had a special night out was Darren Espanto who chose to watch the second night of the 24K Magic World Tour concert.

Darren uploaded a video of him standing very near the stage where Bruno performed.

The young singer accompanied the video with the caption "My birthday gift to myself." Darren will celebrate his birthday on May 24.