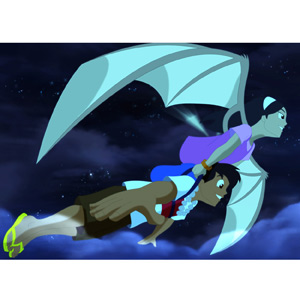 ---

For using 2D and 3D technology, the upcoming local animated feature Dayo can be considered a breakthrough for the animation industry of the Philippines. Yet the movie is not just about good animation since it boasts a touching story and a theme song that truly inspires.

"Lipad" is not an ordinary movie theme song as it needed brilliant collaborative efforts from really talented musical artists so as to deliver a finished product worth the billing. No less than international star Lea Salonga was tapped to sing the universally appealing composition by Jessie Lasaten and Temi Abad, which is about believing in your dreams and making them come true. While Lea provides enough power to stir the song to great heights, "Lipad" leaps further with an alternative version recorded by new band Roots of Nature.

Newly launched by giant label Sony BMG, the three-piece Roots of Nature recently released their debut album with "Lipad" as carrier single. The original plan was to ask a more established band to do the rendition, then movie insiders heard the band's demo and they were convinced to tap Roots of Nature for the new version.

Quite appropriate is that the group's name itself and the high hopes of the act mix well with the mood of the song. Mr. Lasaten, Dayo's executive producer, argued, "Roots of Nature is the most logical choice because being a new band trying to break out and fly, they could relate to the song "Lipad." Their version is more upbeat and is perfect for the 'EDSA flying' scene of the film."
ADVERTISEMENT - CONTINUE READING BELOW
"'Lipad,' has a heart, just like the other songs in our debut album. It reaches out to the people, making them courageously embrace life's fulfillments and frustrations," said Ferry Baltazar, the band's vocalist.
A known musical scoring artist, Mr. Lasaten has combined orchestral score with Filipino ethnic instruments in putting music to some of the scenes, most notably when Bubuy (Dayo's lead character) enters Elementalia (a world where strange creatures reside). He even requested Joey Ayala to interpret one of the film's songs and perform his "hegalong" or a two-string lute instrument, along with kubing (jaw harp), kulintang (ethnic gong) and nose flute. They all added the required texture for some crucial scenes.

Produced by Cutting Edge Productions and directed by Robert Quilao, Dayo features the voices of comedian Michael V.; veteran actors Johnny Delgado, Noel Trinidad, Nova Villa, Peque Gallaga, Laurice Guillen, and Gabe Mercado; comedienne Pokwang; and child actors Nash Aguas as Bubuy and Katrina Legaspi as Anna. It is due for release on December 25 as part of the 34th Metro Manila Film Festival (MMFF). Visit the movie's official web site at www.dayomovie.com.