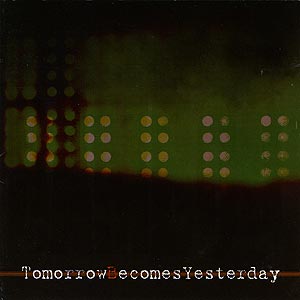 ---

Pinoy rock band Bamboo has once again proved theirpopularity when their fourth album, Tomorrow Becomes Yesterday, reachedplatinum status just a few weeks after it was released in September.

The band formally introduced the 10 tracks included in thealbum through a mini-concert held at One Esplanade, SM Mall of Asia Compound inPasay City last Tuesday, October 28.

Tomorrow Becomes Yesterday, according to the band'sfrontman Bamboo Mañalac, is a line from one the singles in the album titled"Little Child."

He explained, "We just want something poetic,something that could mean a lot of things to other people. I mean, that's sort of how we've chosen ourtitles in the past—like, We Stand Alone Together, Light, Peace, Love—thatsort of open anything to interpretation, anything, same as the music, diba? So, Tomorrow Becomes Yesterday."

Bamboo also said that the group wanted the listeners to havetheir own interpretations regarding the album title. "We want to sort of open lang. I mean, we want titlesthat can mean a lot to people. So, TomorrowBecomes Yesterday is an open riddle, parang kayo na ang bahalamagsabi. It's a line from one of thesongs in the album, 'Little Child.' Butthe title lives on its own."
ADVERTISEMENT - CONTINUE READING BELOW

Like the album title, its first single "Kailan," which iscurrently topping the hit charts, can also draw different meanings from theirfans.

In fact, when PEP (Philippine Entertainment Portal) askedthe vocalist if the song was a sort of a call to the public, he replied,"That's exactly what we wanna happen. 'Yong kanta parang open to interpretation, e. So, ikaw sinasabi mo sa akin kung ano ang ibig sabihin ng kantasa 'yo. So, ako I'll just shut up, iiwanko lang 'yong kanta as is lang. Ikaw,if that's how you see the song, that's good, that's perfect, di ba? We've done our job."

It took a while before the quartet rock band finished theirfourth album. Ira Cruz, the band's leadguitarist, pointed out, "It took a while before we finally got into the studio. Pero when we got into the studio, siguro mgatwo months to three months lang."

This may be because Tomorrow Becomes Yesterday is anall-original album, unlike their third one titled We Stand Alone Together,which contains some cover songs.
ADVERTISEMENT - CONTINUE READING BELOW

Bamboo related to PEP, "It's still the four of us [Bamboo,Ira, Nathan Azarcon for Bass, and Vic Mercado on drums], the difference langfrom the last album, it's all original. No session players, kaming apat na lang'to. You know, the four of us, naka-lock sa isang kwarto, nag-uusap-usap lang."

Ira then added, "Siguro, the difference with the otheralbums, it's a different time, so it's a different state of mind."

For five years the band has shown that they can stand out from the competition. Where do they get their inspiration to create songs that will leave amark on people?

"Each other, I think," answered Bamboo, "I mean, we've beenplaying 24/7. You know, we live in thislittle bubble so we listen to each other, we see each other, so we inspire eachother. That's how it works."

Aside from "Kailan" and "LittleChild," Bamboo's fourth album Tomorrow Becomes Yesterday also includes the tracks "Kalayaan," "Blown Away,""Nobody Knows," "Last Days On A Cruise Ship," "Wake Up Call," "24/7," "LookingOut for Number One," and "Muli."
ADVERTISEMENT - CONTINUE READING BELOW
CAUSE-ORIENTED PROJECT. With the success that they are getting, Bamboo still remembers to sharetheir blessings with less fortunate people. The band became part of the "Days of Peace" campaign of UNICEF, which is also supported by Mr. Pure Energy Gary Valenciano.

Last year, they agreed to donate two pesos to UNICEF for every copy sold of their third album titled We Stand AloneTogether. The donation helped support UNICEF's emergencyfunds, particularly for children affected by armed conflict in Mindanao.

Aside from this, the band also helped in UNICEF's outreachprogram in Mindanao. "We went to themountains of Mindanao and we brought some medical supplies, books for thechildren there. We try to do what wecan and help as much as we can, try to give back, di ba?" said Bamboo.

However, because of the current situation in Mindanao, theirmission was put on a halt.

"Ngayon nagkakagulo na," Bamboo told PEP. "There's supposed to be three, in a spanof a year, three trips 'yon, e. Everyfew months, babalik dapat kami. Peronagkagulo ngayon, so we haven't gone back since."
ADVERTISEMENT - CONTINUE READING BELOW

Despite the postponement of their medical missions to the South, the four-man band said that they will stillcontinue giving help to the UNICEF. "Now, we're trying to find other ways to sort of help," said the vocalist. "We're still trying to work with Unicef andwe're still trying to find some ways to help."

Will they also offer their fourth album to UNICEF? "We haven't talked about that pero we're thinkingof something bigger. We'll think of something," Bamboo said in conclusion.


Tomorrow BecomesYesterday is now available in record bars courtesy of EMI Philippines.


TRACK LISTING.

1. Kalayaan
2. Blown Away
3. Little Child
4. Kailan
5. Nobody Knows
6. 24/7
7. Last Days on a Cruise Ship
8. Wake Up Call
9. Muli
10. Looking Out for # 1