Lea Salonga reunited with Miss Saigon leading man Simon Bowman for her concert marking her 40th anniversary in the entertainment industry.
Simon portrayed Chris, the marine lover of Lea's Kim when they did the inaugural run of Miss Saigon in London.
The British actor charmed the guests at Lea's technical dress rehearsal held at the PICC Plenary Hall last October 18.

He thrilled his Filipino fans when he exclaimed, "Mahal kita!"
Simon even teased Lea not to drink too much during one of her breaks.
Before she left the stage to change her outfit, Simon gave her one condition: "Not too much gin and tonic backstage."
Lea smiled and said she would just have one shot.
During this concert, Lea looked back on the milestones of her career. She initially wanted to have an intimate celebration but she was convinced to hold a concert at the Plenary Hall, which she described as the "biggest living room" that she knew.
"Four decades this year. It's crazy!" Lea told the crowd.
One of the highlights of the concert was when Lea talked about her former leading man Aga Muhlach.
"Remember the movie Bagets? Ang tanda na nating lahat!

"Aga Muhlach. My gosh! Talk about crush ng bayan!"
Lea then admitted that as a young girl, she did a naughty thing just to watch the 1984 movie Bagets.
"I sat on the stairs, not even a seat, just to watch his movie. I think our entire 7th grade class ditched just to watch. And I never ditch [class]!
"But I had permission since my mom was with me.
"The entire movie theater was swooning and screaming, especially when then newcomer and neon-drenched Aga showed up onscreen with his perfect skin, high cheekbones, radiating charm and super-gelled hair.
"Remember, we were 12-13 year old girls transitioning into young women.
"We were naively beginning to appreciate the aesthetics of male young movie stars."
One of the most applauded numbers that night was Lea's duet with Mark Bautista for the song "A Whole New World."

The Broadway diva also performed numbers with her daughter Nicole Chien and Esang de Torres, her protege in The Voice Kids Philippines Season 2.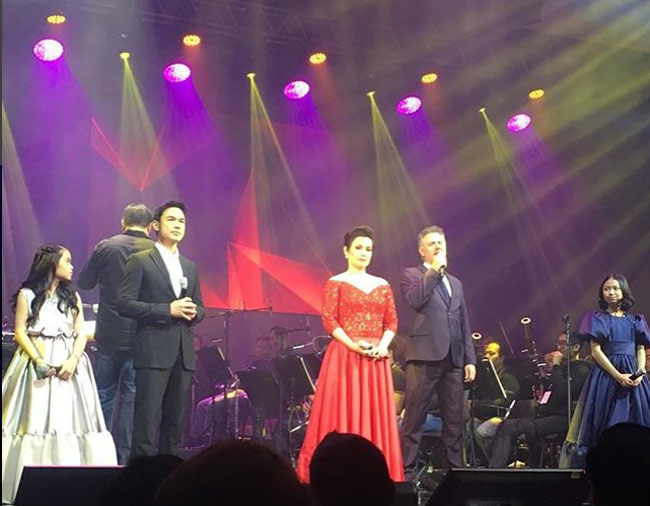 Lea Salonga (wearing red) had (L-R) Esang de Torres, Mark Bautista, Simon Bowman, and daughter Nicole Chien as her guests during her 40th anniversary concert.