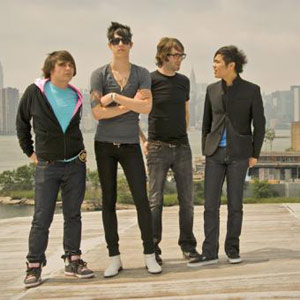 ---

Even before the American rock band Journey chose to haveArnel Pineda as their vocalist, a Los Angeles-based pop band has beenperforming with a Filipino drummer for some time now.
Metro Station, a band formed in late 2006, is best known fortheir Top 10 Billboard hit single "Shake It" from their self-titleddebut album. In the Philippines, this song is used as the jingle of the TVcommercial for a popular orange juice drink.
This band is composed of Trace Cyrus on vocals and guitar(who is also the half-brother of Hannah Montana star Miley Cyrus), MasonMusso on vocals and guitar, Blake Healy on keyboards and synth and AnthonyImprogo on percussion-who is actually Pinoy.
Metro Station's brazenly catchy dance hooks and yearninglyrics aim to capture what it feels like to be a teenager in today's culture.Aside from "Shake It," Metro Station is also known for its new song titled"Seventeen Forever."
The band gained early success when online fans made themMySpace stars in a matter of weeks. They caught the early attention of Alternative Press (earning a spot asone of the magazine's "22 Best Underground Bands"), along with URB and TeenVogue magazines, months before they signed to a label. Since their discovery, the band members letgo of their mall jobs to become recording artists with Motion City Soundtrackin the same year.


"We were on MySpace three months before we hit the charts"says Trace. "And when that happened, wewere like, oh my god, this could really happen for us. Before that it had all seemed unreal."
The band first performed a show at The Echo, where alittle-known musician by the name of Beck happened to be opening for them. "It was a secret show for him that soldout," says Trace. "We showed up andthere was Beck. He used our equipmentto play and we went on right after. Wehad only played ten shows at that point, but it was one of our best nightsyet."
ADVERTISEMENT - CONTINUE READING BELOW
Metro Station signed to Sony BMG in late 2006 (after anintern discovered them on MySpace) and recorded their album in New YorkCity. Warped Tour veterans Motion CitySoundtrack produced two tracks, off their debut album, and the band worked onthe remaining tracks with celebrated producers Sam Hollander and Dave Katz (GymClass Heroes, Boys Like Girls).
Metro Station's self-titled debut album is now out inCDs at leading record stores in the Philippines under Sony BMG MusicEntertainment.