Patti Austin was like a ray of sunshine during her rehearsal yesterday, December 5.
Hearing her voice soar with "In My life," which was released alongside "Say You Love Me" in the album Patti Austin: End Of A Rainbow (1976), was enough to make everyone in the studio forget the gloomy weather.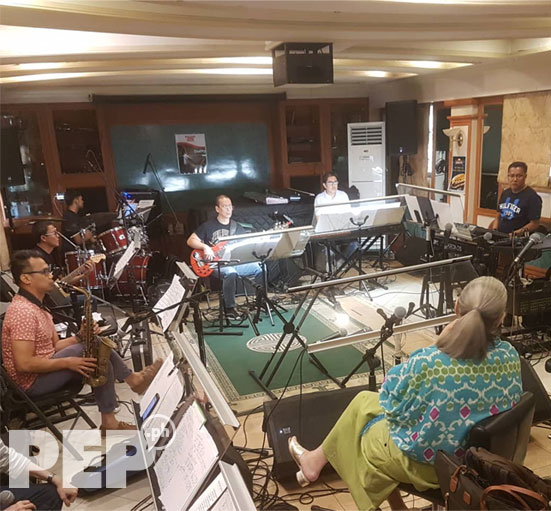 "I have been singing for almost three hours, I need to rest my voice," she said.
But when PEP.ph (Philippine Entertainment Portal) approached her for a quick interview, she paused for a few seconds, nodded her head yes, and quipped, "I'm famished, every thing now looks like a meal to me."
The writer asked: How did a Patti Austin earn her legend or music icon status?
"I have no idea," she began. "You have to ask the industry, it's not something that I planned on."
The 68-year-old American singer began singing at the age of four, became a session musician and Queen of Jingles in her teens, recorded a string of hits in her 20s, and won a Grammy award for Avant Gershwin, the best jazz vocal album, in 2008.
She has a career spanning six decades, is there a secret to her longevity?
"I don't think you can have longevity anymore. We don't live in a world of longevity. We really don't. It no longer exists.
"Every thing, quick, quick, quick, quick in and out, I don't think there's gonna be too many people from the next generation that have a career for 64 years.
"If legendary status applies to anything, it's about time served. I think that has happened to me and for me because I'm still standing. Nothing more than that."
But of course, she was just being modest. Aside from her timeless hits "Smoke Gets in Your Eyes," "It Might Be You," "All Behind Us Now," "Baby Come To Me," "How Do You Keep The Music Playing," "If I Believed," and "Stop, Look, Listen," to name a few, she remains a sought-after performer.
Aside from "not talking," what are her other preparations before a concert?
"That's it. I already know these songs. This [rehearsal] is for them [the band] to know what they're gonna be playing, but I have been singing the songs, these songs a long time."
Having performed countless times around the world, does she still get nervous?
"Never ever felt nervous going on stage," she replied, before adding, "If you love what you're doing, then why be scared doing it?"
All throughout the rehearsal, the Hollywood singer was in high spirits.
And when she left the studio, PEP.ph caught her chatting with her Pinoy entourage not as a "Soul Diva," but simply Patti.
Her concert with Jaya, the #ChristmasWithSoulDivas, is happening tonight, December 6, at The Theatre at Solaire. Front act will be LA Santos.