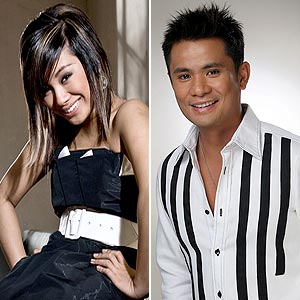 ---

The country's premier singer-songwriter Ogie Alcasid joins forces with American Idol Season 7 finalists Ramiele Malubay and Danny Noriega in a groundbreaking concert titled The Idol Experience: Ogie Sings with the Idols.

Aside from that, audiences will be treated to numbers from the Pinoy Idol singing stars and indie rock outfit Menaya. Ogie Sings with the Idols will be staged at the Aliw Theater in Pasay City on December 20 and 21.

This concert will also serve as Ramiele's homecoming, and a reunion for Pinoy Idol Gretchen Espina and the 11 finalists. When the reality singing competition was conducted in GMA-7 this year, Ogie served as one of the judges along with Jolina Magdangal and Wyngard Tracy.

Ogie Sings with the Idols is being produced by a new production company called TheUnderGround Studio, Inc (TUGS) under the supervision of Brian Sombero, vocalist/ guitarist of Menaya. The idea of bringing together the Pinoy and American Idols came about when Brian noticed that a lot of Filipino-Americans around the world are hurdling through tough auditions, and making it to the top slots.

"You can only imagine the rigorous process until you undergo it yourself which I actually did when the first edition dubbed as Philippine Idol was launched by the defunct ABC-5," Brian shares. "Since there was no audition in Manila anymore, I went all the way from Quezon City, where I live, to Cebu City to try out for the first audition and then came back to Manila for the next level of auditions."

The concept of the concert only materialized when GMA-7 got the franchise for Pinoy Idol. As the show was simultaneously running with American Idol, another Filipino-American in the person of Ramiele Malubay managed to reach top nine in its seventh season. "Ramiele's father is a close friend of my dad," Brian explains, "I asked him to accompany me to Miami, Florida to discuss and formalize the plan with Ramiele's dad. And since Ogie is a certified idol himself and a good friend of ours, I thought of putting all of them together in one show dubbed as The Idol Experience."

In fact, Ogie is already very excited to perform with the Idols. "This is the very first time that I am actually performing with singing champions," he says. "It is an honor for me to showcase some of the best young singers that we have and share the same stage with them."

As a new player in the concert industry, TheUnderGround Studio is focused on becoming among the top production outfits in the country. "We are still undergoing a learning process so we are doing everything hands-on," Brian declares, "but our immediate goal is to know the industry inside out, and we can only do this by staging a major concert right away." TheUnderGround Studio is very hopeful that it will be able to penetrate and make a mark in the music industry. It actually has ongoing negotiations with three international acts for major concerts in the Philippines next year.

Menaya is doing the front act of the show but they're not doing this just to get into the mainstream scene. "Being part of this concert is something new for us not to mention that this is the first time people will witness the interesting combination of indie and mainstream musicians in one concert," says Brian.

Ogie is positive that the indie rock genre is very much alive and vibrant in the country. "Filipinos love great music," he asserts. "In time, indie rock will truly be well-received. I am also confident that indie rock artists can have a fantastic interpretation of the music that I create."

The concert's repertoire will revolve around a uniting theme but Brian refuses to reveal what the audience would be treated with at this point. With Marc Lopez as the musical director and Rowell Santiago as the overall director, it is enough to say that there will be several highly entertaining and innovative musical arrangements customized for the depth and range of the performers.

So brace yourselves for the Idol Experience! Catch your favorite Idols perform a great variety of music as they close the year with a bang on December 20 and 21. Tickets are priced at P10,000 (already sold out), P3000, P2400, P1400, and P650. For more information, call Ticketworld at 891-9999 or Ticketnet at 911-5555 or TheUnderGround Studio at 376-2732.


ADVERTISEMENT - CONTINUE READING BELOW