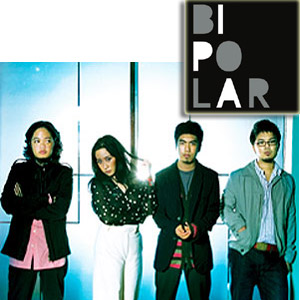 ---

When Up Dharma Down released its first album titled Fragmented,it earned for them the title of "band most likely to cross over to NorthAmerican shores" according to BBC Network and a feature in Time Magazine Asia.With praises such as these, it seemed quite hard to top the band's debut album.
Then comes Bipolar, the sophomore album releasedunder independent label, Terno Recordings.
The Hexagon Lounge at RCBC Plaza proved to be quite small avenue for Up Dharma Down's album launch last October 24. Band supportersflooded all the way out through the hallway even at the latter end of theperformance. One of their guests that night was actress Meryll Soriano, thestar of the band's first music video.
Everyone fell quiet as the first notes were strum on CarlosTañada's guitar. Armi Millare (vocalist and keyboardist) and Paul Yap (bassist)joins in the melody as Ean Mayor (drummer) struck the first beat. "Blessed" isthe band's track of choice to start the evening, setting the mood for a nightof thought-provoking music, the kind that speaks to the soul.
ADVERTISEMENT - CONTINUE READING BELOW
And just as the audience fell into a trance, Mayor signaledthe drums for a change of pace-- something more upbeat. "Every First Second,"the song currently shown in local music channels, was then played. The band continued to perform the next 14tracks from their album, ending with the last track as lingering and hauntinglysweet as the title suggests, "Sugarcoats and Heartbeats."
Bipolar includes three Tagalog tracks: "Sana," Taya," and "Silid" as well as fourinstrumental tracks, namely "Delayed Breathing," "Cold is Warmth," "Return,Saturn, Return," and "Furnace." There are seven other tracks "Blessed,""Clockwork," "All Year Round," "Unspoken Definites," "Two," "Every FirstSecond," and "Sugarcoats and Heartbeats." Every track included seems to makethe album worth the two-year wait.
The night's performance ended with the audience's longapplause. A string of people have begun to form a queue to have theirnewly-purchased limited edition copy of Bipolar signed. Toti Dalmacion,the band's manager, asks everyone to move outside the venue as the air conditioningcan't seem to make the lounge more breathable.
ADVERTISEMENT - CONTINUE READING BELOW
Just as everyone began to move outside, Toti emergesfrom the room and apologizes, "I'm sorry guys, change of plans; we can go backin again for the album signing." Nobody complains. Everybody willingly obliges,eager to congratulate the band's success in producing yet another noteworthyalbum. UP Dharma Down conquers the sophomore slump and lives up to theexpectations of its peers, supporters and critics—giving testament as to whythey deserve such high recognition.