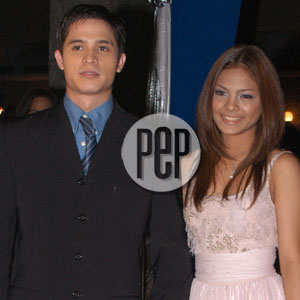 ---
Susan Roces, Fernando Poe Jr.'s widow, was a no-show at Lovi Poe's concert, It's Gonna Be Love. The first major solo concert of the 18-year old singer-actress took place last Sunday, February 11, at Teatrino in Greenhills. Lovi is the daughter of the late FPJ, The King of Philippine Movies.
Weeks before her show, the teen actress-singer said in interviews that she fully intend to invite Miss Roces to her concert. Lovi also said that she would also invite Sheryl Cruz, her Bakekang co-star and FPJ's niece.
But even until the show ended, we didn't see Susan and Sheryl.
Lovi's friends in and out of showbiz were in full support. Among those who attended the concert were Yasmien Kurdi (who plays her sister "Charming" in Bakekang), male teen star PJ Valerio, and sweethearts Nina and Nyoy Volante.
Lovi thanked Nina who lent her the soul singer's band, which was Lovi's back-up during the concert.
Also in attendance were some executives of GMA-7 such as Cheryl Ching-Sy who excitedly informed us that GMA-7's Dramarama sa Hapon will soon air Muli starring Carrie Lee and Alfred Vargas.
The night got really exciting when Cogie Domingo arrived. Dashing and debonair in his white long-sleeved polo shirt, Cogie—one of Lovi's suitors—sat in the front row seats with his dad and mom, Atty. Rod and Zeny Domingo.
The first part of the concert presented Lovi as a teeny-bopper wearing a pink tube top and jeans. She sang her way thru the show with the songs "It's Gonna Be Love" (by Mandy Moore); "Dreaming of You;" "Eternal Flame" (recently revived by the band MYMP); a demo version of "I Love You" (by Viktoria); Lovi's original "Kung Pwede Lang," and "Stay," a duet with guest Chris Cayzer.
Chris then did a solo with "You're A God" by the Vertical Horizon.
ADVERTISEMENT - CONTINUE READING BELOW
Lovi re-entered the stage, this time wearing a red vampy long gown and as a performer a la-lounge singer, she belted out songs such as "So Slow" by the Freestyle; "Don't Know Why" by Norah Jones; Patti Austin's "Someone To Watch Over Me;" Carol King's "It's Too Late;" and "Valentine" by Jim Brickman. She then performed another duet, "Bakit Ngayon Ka Lang," this time with the concert's director, Ogie Alcasid.
The songwriter also performed a solo, a remixed version of his hit "Nandito Ako."
For the final sequence of the show, Lovi wore a white long gown making her look her age, eighteen that is. The debutante, whose real name is Lourdes Virginia Moran Poe, will celebrate her birthday on February 11 but instead of a formal party, she chose to celebrate with family and friends by staging a concert.
The star of the show performed "My Immortal" (by Evanescence); "Get Here" (by Oleta Adams) which she dedicated to FPJ; Kelly Clarkson's "Because Of You," and "Lost Without Your Love" (the version of Regine Velasquez).
When Lovi sang "I Never Knew Love," Cogie joined her onstage. The two young stars then embraced and kissed while Lovi sang. The former Love to Love co-star handed Lovi a box, his birthday gift. The two exited the stage together. Until now, we still haven't found out what's inside the box.