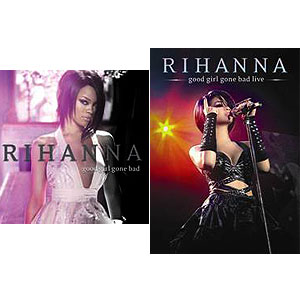 ---

From sharing an "Umbrella" to going to "Rehab,"the Good Girl Gone Bad, Rihanna is at it again in herquest to make history with her long line of smash hits and sold out concerts! ThisSaturday, November 16, Rihanna visits Manila to perform LIVE at the Fort BonifacioGlobal City. She will be joined by R&B and pop singer-songwriter ChrisBrown.

Witness Rihanna's album and DVD come to life on the grandest event of the yearwhere two international acts unite to bring the Filipino audience globalstandard performances in this rare event.
To give fans of the female Grammy winner morereasons to celebrate, MCA Music Inc. releases the International Edition of Good GirlGone Bad. This edition contains a bonus DVD that includes behind thescenes footage from her sold out tour that's also available in DVD titledGood Girl Gone Bad Live. This CD+DVD edition was only made available in the USand now, due to its massive success, is brought to Philippine shores. Just likethe way a world class act like Rihanna paved her wayto Manila to further stamp her seal of success to the Filipino musicaudience.

Good Girl Gone Bad wasexpected to reach great heights even before its release. With this album, Rihanna really exceeded expectations as she did not onlymake a bigger name for herself, she started a phenomenon with just the firstsingle off her album. It turned out to be a compilation of number one hits withthis power-packed combination: "Umbrella," "Hate That I Love You," "Don't Stop theMusic," "Take A Bow," "If I Never See You Face Again," "Disturbia," and "Rehab." It is timely that her recent album, Good Girl Gone Bad, is awarded the Platinum Award in time for herarrival.

There is no greater way to experience Rihanna's music than to watch her perform her hits LIVE!Bring home the Good Girl Gone Bad Live DVDthat showcases the sold out tour of Rihanna. This DVDis captured with a 14 camera High Definition shoot.The DVD features innovative performances of all her hits from all 3 albums,including the worldwide phenomenon "Umbrella." It also has never before seenbonus material that includes a behind-the-scenes documentary and an exclusivehidden extra.
ADVERTISEMENT - CONTINUE READING BELOW

Taking home copies of Good Girl Gone Bad: International Edition CD/DVD and Good Girl Gone BadLive DVDcan be the perfect way to hypeyourself up before the big event, or this could also be the best remembrancethat you can get after watching the show.

Theyareavailable in Astrovision, Odyssey, Music One and Fully Booked branches. Rihanna's greatest hits are also available through mobiledownloads through your cellphones and through internet downloads via www.fliptunesplus.net.
Rihanna's Good Girl Gone Bad International Editionalbum andGood Girl Gone Bad Live DVDarebrought to you by MCA Music Inc.