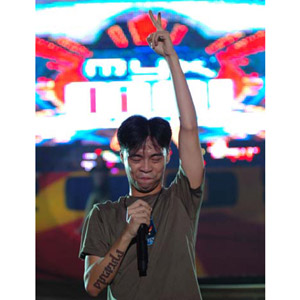 ---

It was a celebration of music and solidarity as music fansgathered to pledge their allegiance to the Republic of MYX at MYX Mo!2008.
The grand musical extravaganza was held last November 6 atthe SM Mall of Asia Concert grounds. The 50,000-strong crowd--comprised ofteenagers, yuppies and students from all walks of life--trooped to the venue ina show of support for the OPM artists who performed at the concert.
Loyal MYX viewers did not want to miss this momentous event,which had over 50 of the hottest Pinoy bands artists taking the stage. MYXMo! opened with a pre-show set featuring some of talented new OPM artistssuch as Paraluman, Join The Club, Archipelago, Angulo, Roots of Nature, Out ofBody Special and Miguel Escueta. They performed alongside established acts suchas Cueshe, Christian Bautista, Kyla, Julianne and many others. The segment was hosted by MYX VJ Search 2008finalists Ezra and Cerah.
The audience went crazy with every performance on-stage andgot even wilder when the main show started with resident MYX VJs Luis Manzano,Nikki Gil, Iya Villana and Drei Felix welcoming the crowd to one rockin' night.They were later on joined by the newest additions to the MYXfamily--newly-minted VJs Robi Domingo, Monica Yncierto, Chino Liu-Pio, andBianca Roque.
Amidst the rain and thousands of people wanting to watch theevent, the night went full blast with an astounding performance of thePhilippine national anthem by young singing sensation Charice Pempengco,eliciting applause from the crowd.

Opening the show was a jaw-dropping performance by Rico Blanco of his comebacksingle "Yugto." The first-ever major stage performance of the songfeatured a percussion section as well as a full choir, earning it a spot amongthe most memorable MYX Mo! moments.

With the bar being set so high, the artists that followed came on just asstrong, putting the crowd into a state of high-energy frenzy. A rundown of thenames who rocked the stage sounded like a who's who of the OPM scene--Bamboo,Kamikazee, Chicosci, 6cyclemind, Sandwich, Urbandub, Parokya ni Edgar, SpongeCola, Hale, Pedicab, Itchyworms, Markus Highway, Pupil, Cambio, Kjwan, YengConstantino and many others.

Both artists and music fans alike stood proud, together declaring themselves ascitizens of the Republic of MYX. The 2008 MYX Mo concert successfully paidtribute to OPM music by opening venues for local artists and bands to reach outto the public.
ADVERTISEMENT - CONTINUE READING BELOW
If you weren't able to watch the event live, don't fretbecause MYX will be showing the whole concert on November 15, Saturday,starting at 3 p.m. and on November 24, Monday starting at 6 a.m.
Tune in to MYX (Sky Cable channel 23) for more information.