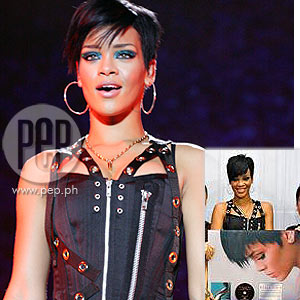 ---

Minutes before she wowed the crowd during her one-night concert in Manila, Rihanna was presented with a platinum award by MCA Music Inc. for her recent album, Good Girl Gone Bad. Not only did it do well in record bars, it also contained hit after hit that generated numerous downloads from mobile tones to full track music.

Her recent album has indeed turned out to be a compilation of her greatest hits. Having several sure fire singles that dominated radio, video and on ground club scenes, this power line up inclusive of Umbrella, Don't Stop the Music, Shut Up and Drive, Hate that I Love You, Disturbia, Take a Bow, If I Never See Your Face Again and her newest single Rehab became the perfect combination in ensuring the success of Rihanna's album and her much awaited concert in the Philippines.

It was as if a new legend was being unravelled as people shouted, danced and sang together with Rihanna during the concert. Few days before the show, forums and social networking sites were flooded about concert details, all of which raving about how excited they were about Rihanna's visit. True enough, more than 70,000 people graced the occasion, all excited and eager to witness Rihanna grace the stage. An extravagant display of fireworks served as the red carpet to mark the start of Rihanna's performance. There was a diverse mix of nationalities, ages, and gender preference as well as music genre driven personalities that filled up the Fort Bonifacio open field that was literally converted into a dance floor once Rihanna opened up her turn on the stage with Disturbia.

It was easy to pinpoint which of Rihanna's songs took hold of the Filipino taste over the course of her career in the music industry. High energy was exerted by the audience as they put a check mark on their favourites by singing along to "Disturbia", "SOS", "Unfaithful", "Don't Stop the Music", "Shut Up and Drive", "Rehab", "I Hate That I Love You", and "Take A Bow". Yet, the highlight of the night was the rumour turned reality, unforgettable, duet of Rihanna and Chris Brown of the phenomenal smash hit, "Umbrella" that capped off the show in the most deserving way possible.

To celebrate the victory of Rihanna's concert and her platinum award, MCA Music Inc., releases the International edition of Good Girl Gone Bad: Reloaded, packed with all of Rihanna's hits plus a Bonus DVD with never before seen footage of her concert plus four live performances. Also available is the full DVD of Rihanna's concert, titled Good Girl Gone Bad: Live that will rekindle the unforgettable performance of Rihanna over and over again. Get the chance to also bring Rihanna's hits with you, anywhere you go by creating a Rihanna-filled mobile experience by downloading her songs on your cell phone through WAP, Ring back tone or True Tone or through Internet download via www.fliptunesplus.net.
ADVERTISEMENT - CONTINUE READING BELOW

Click HERE to view photos during the Rihanna-Chris Brown concert at The Fort.