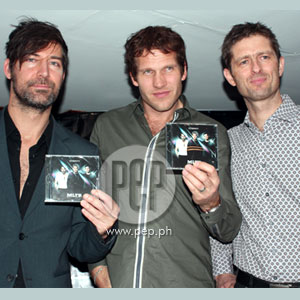 ---

Michael Learns To Rockreturns to wow Manila as they perform tomorrow, November 22, at the AranetaColiseum.

The popular band from Denmark--composed of Jascha Richter, Kare Wanscher and Mikkel Lentz--was responsible for a string of monster radio hits "The Actor," "SleepingChild," "25 Minutes," "Out of the Blue," "That's Why You Go Away," "Ghost ofYou," and "Paint My Love," among others.

Since 1991, MichaelLearns To Rock conquered the international music scene brought mainly bytheir brand of music which basically falls under the category of pop. What setsthe band apart from other mainstream acts out there lies in their ability tocraft good tunes oozing with commercial appeal.

In a press conferenceheld last Wednesday, November 19, at the Holiday Inn in Ortigas, Pasig City,singer and chief lyricist Jascha displayed humor in discussing the essentialelements of a good song.

"You got to have a chorusand a verse," he replied jokingly. Yet and despite his deadpan demeanor, it wasevident that like any other hit songwriter, the practice of weaving words withmelody comes of naturally thus explaining Jascha's inability to address thequestion in a philosophical manner.

ADVERTISEMENT - CONTINUE READING BELOW

GLOBALSUCCESS. Michael Learns To Rock is one of the few Danish groupswho have managed to make a huge impact outside their home country. Even the bandmembers themselves expressed disbelief with their success here in Asia.

Since 1992, the bandhas toured extensively including Far East countries like Indonesia, Malaysia,Singapore, and the Philippines in their itinerary. As proof of the group'ssuccess in Asia, Michael Learns To Rock back in 2001 decided to release a compilationalbum titled 19 Love Songs in timefor their 2001 five-week-long tour of Dubai, Singapore, Philippines, Thailand,Malaysia, and China. The album was launched first in Asia even before Denmarkhad the album available in their racks.

Aside from chartstandings and record sales, the band members take pride in the fact thatdespite achieving global recognition as a rock unit, Michael Learns To Rocknever engaged in any scandals or exploits deemed as tabloid worthy.

Looking forward to playbefore their Filipino fans, Michael Learns To Rock promised to dish out thewell-loved ballads to keep the Araneta Coliseum up and singing. "That's why we'rehere," assured Kare, "we're here to play all the old Michael Learns To Rockhits."
ADVERTISEMENT - CONTINUE READING BELOW

Tickets to the MLTR concert are available at Ticketnet (Tel. No. 911-5555).