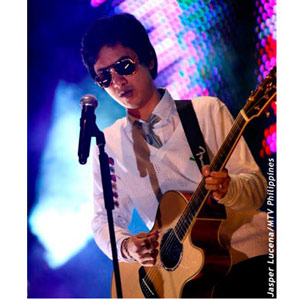 ---

It shall go down local music history as that singular moment where four estranged band members--Ely Buendia, Raimund Marasigan, Buddy Zabala and Marcus Adoro--came together for one spectacular reunion. The date: 08.30.08. One band. One great show. One night only.

The historic performance of the country's biggest band in the '90s that drew in more than 50,000 people at The Fort Bonifacio Open Field will be shown in movie theaters starting November 26 simultaneously in Metro Manila and Cebu City.

The Eraserheads is again about to make history as the only OPM band to immortalize their performance on the big screen, a feat never before achieved by any local band or artist. The soundtrack of the film, brought to us by Sony BMG Music Entertainment, is already available at all record outlets nationwide.

Eraserheads Reunion Concert: The Movie is being presented by Smart Buddy and is guaranteed to relive the glorious moments of August 30, starting with the countdown to signal the beginning of the show, until it was unexpectedly cut short due to Ely's failing health. The band failed to come back on stage after the 15-minute intermission preceding the first set after Ely was rushed to the hospital for extreme chest pains.
ADVERTISEMENT - CONTINUE READING BELOW

It will be remembered that Ely was under a lot of pressure at the time of the concert's staging. His Mom Lizette Buendia passed away two days before the show.

The concert reunion was replete with drama--starting with the events leading to the fab four's agreement to do the show together, to the controversial and volatile position the company which bankrolled the production was placed after all the protests made by the Department of Health. Sony BMG and Francis Lumen's company saved the day and the biggest drama happened with the abrupt conclusion halfway through the show.

The crowd's extraordinary display of understanding and support to the band was also caught on video. No one displayed any violent reaction, which was common to rock concerts the world over, but instead, the crowd offered prayers, and respectful applause when the show's cancellation was announced.

But given all that transpired, Eraserheads: Reunion Concert boasts of outstanding production value. The state-of-the-art sounds, lights, and stage reportedly caused a whopping P40-million pesos to build. The audience that night were so thrilled to find themselves drowned out by the outstanding display of lights and fireworks. It was truly a magnificent event, to say the least.
ADVERTISEMENT - CONTINUE READING BELOW

All these, plus the thousands of fans caught on camera, will be relived all over again in Eraserheads: The Concert Reunion on the big screen starting November 26 (Wednesday) at your favorite movie houses.