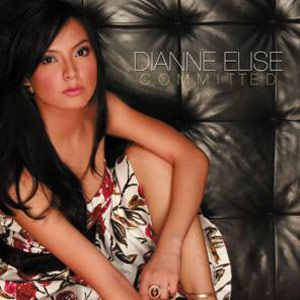 ---

From modernized classics to re-defined pop hits, Dianne Elise declares resilience in her sophomore album Committed. After the success of her debut album, she was signed up by MCA Music and immediately went back to the studio to record another fine selection of melodies. On this new album, Dianne digresses from the jazz standards and goes forward into the pop genre. Listeners will find 13 tracks on the album that share the common denominator of love.

If people secretly long for the days of the boy band craze, Committed gives people the chance to reminisce with tracks like Westlife's "If I Let You Go" and 'N Sync's "This I Promise You." Revamped arrangements by Marc Santos make the songs more unique without losing the essence that made them appealing in the first place. For those whose boy band obsession never took place, Dianne renders retro tunes for the young and old alike. To add some spice, guest musicians Justin Bandolon and Mark Ramos from Tres throw in some sweet riffs.

The carrier single of the album, "If You're Not the One," was handpicked by the solo artist herself during the selection process but it almost did not make the cut. While others argued the song was too contemporary to revive, Dianne insisted on coming out with her own version. The result was a refreshing take on Daniel Bedingfield's hit with a more delicate touch. "If You're Not The One" is currently gaining heavy rotation on pop adult contemporary stations in Metro Manila and in the provinces.

The contributions made by other musicians helped round off the album with their incredible talent. AJ Salvado from Silk and Reuben Laurente provided the backup, while the latter performed with Dianne in a soaring duet, "Miss You Like Crazy." In the only original composition on the album, bassist extraordinaire Bimbo Yance collaborated with Dianne to create a more earnest melody. Together they wrote the final track "How Could You."

When asked why she picked the title Committed, Dianne relates, "The album talks about the continuous struggle of any relationship. There are ups and downs but the point is to stay committed all throughout." Her description can be made akin to the journeys people take in life, like that of her career. Since her debut, she has taken on the roles of a radio jock, commercial model, and host. But whether there are ups and downs, it seems Dianne Elise is always ready to show her commitment.

Watch Dianne perform live as she tours Robinsons malls: December 13 - Robinsons Dasmarinas, Cavite, December 21 - Robinsons Star Mills in Pampanga and January 23, 2009 - Robinsons Galleria. Dianne Elise's Committed Album Tour is brought to you by MCA Music, MYX Music Channel, Odysseylive.net and Robinsons Malls. Special thanks to Red Box.

Grab a copy of Dianne Elise's sophomore album Committed, featuring the carrier track "If You're Not The One," in leading record stores nationwide. Dianne Elise's songs are also available through mobile downloads via your mobile service provider and through internet downloads via fliptunesplus.net.
ADVERTISEMENT - CONTINUE READING BELOW