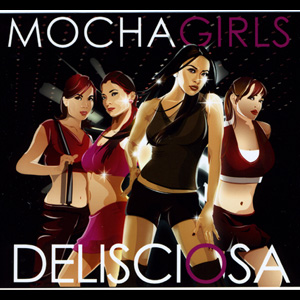 ---

The Mocha Girls' album Delisciosa is delightfully delicious to the ears as their music brings out the disco-happy person in you.
Mocha Girls is composed of four girls headed by the beautiful Mocha, with the equally lovely Hershey, Bez, and Grace. Aside from making music and dance, they are slated to appear in the upcoming movie Sumpa, starring Joross Gamboa and Mark Gil.
In a pleasant surprise, the all-girl group ventures into the alternative rock genre with the band Mayonnaise. In addition to the mix of dance, rap, and pop rock, they perform the song "Delisciosa" in different versions, including a Christmas medley, just in time for the holiday season.
Delisciosa offers songs that are easy to remember. After a few minutes, you'll probably sing along with the beautiful ladies. The energetic beat of some of the tracks will make you want to get up and dance. The album would definitely be better if it included a dance exercise video.
The unique blend of music in Delisciosa shows that the girl group isn't scared of venturing into different genres like pop ("I Kissed a Girl") and alternative rock ("Sige").
There are a few points in Delisciosa that drag the point meter down. One is the repetitiveness of some of the beats and the refrain in some of songs. Listening to two minutes of "Igiling-giling mo lang sa kaliwa't kanan" will make you wonder if the track's skipping on the player. Like, is this song ever going to end? The track "Sige" has three versions in the album, and there's hardly any difference between them.


Good thing there's Delisciosa to save the day with its own set of different, but also similar, versions—if you get bored with Sige, just skip and listen to Delisciosa. The Mocha Girls have wonderful voices when it comes to the mellow tracks. However, they tend to overdo singing, sometimes relying on their alluring voices to cover up out-of-tune high notes.
ADVERTISEMENT - CONTINUE READING BELOW
All in all, though, Delisciosa is a good dance album. It compensates for repetitive beats by giving listeners a wide range of tracks to experience.
Highlights of Delisciosa are the songs "Deliciosa," "I Kissed A Girl," "Sige (Paalam Na)" in this 15-track album, which is distributed by Viva Records.


THE TRACKS

1. Delisciosa
2. I Kissed a Girl
3. Mobe
4. Sige (Paalam Na), featuring Mayonnaise
5. Delisciosa A Christmas Medley
6. Patcha
7. Twirl It & Shake It
8. Hawak Mo Aking Kamay
9. Giling Mo
10. Ladiladi
11. Sige (Paalam Na) Minus One
12. Patcha
13. Delisciosa
14. Mobe
15. Sige (Paalam Na) featuring Mayonnaise