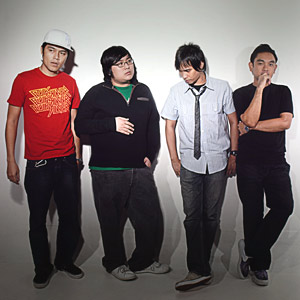 ---

Indie rock outfit Menaya has a real doer for a frontman in Brian Sombero. Apart from his duties as main singer-songwriter and bandleader, he has also ventured into producing concerts. He is at the helm for an upcoming concert featuring balladeer Ogie Alcasid and American Idol Season 7 Fil-Am finalist Ramiele Malubay.

Called The Idol Experience: Ogie Sings with the Idols, the two-night concert will be staged at the Aliw Theater, Pasay City on December 20 and 21. It will also feature the finalists of the recent Pinoy Idol competition (aired over GMA-7) led by its grand winner Gretchen Espina, along with Brian's band Menaya. The producer-rocker himself was a former Philippine Idol contestant when it was part of ABC-5, so his band's presence is in sync with the 'Idols' concept.

"Ogie is a family friend while Ramiele's dad is a friend of my dad," revealed Brian who finds amusement with the fact that a lot of Pinoys abroad enter into singing-star search auditions and make a name for themselves in the industry. His newly organized company TheUnderGround Studio (TUGS) is now taking care of what would be an interesting mix of straight pop and indie rock music in a major concert.

He confided that he is probably the greatest frustration of his father who initially wanted him to finish his studies in college. In 2002, his father brought him to Les Roches School of Hotel Management in Switzerland to be familiarized with the world-renowned curricula of the prestigious school. Les Roches graduates are sought out by the world's top hotels and restaurants, and occupy some of the most influential positions in the hospitality industry. "My dad really went out of his just to convince me to enroll in said school. At first, I played along with him but I wasn't really sure of staying in said school, " Brian quipped.

"In line with my father's current engagement organizing hotel and resort projects in the country, I was left in Zurich by my father confident that I will pursue the course. But after only three months, I returned to the Philippines to pursue my true love—music." His father was left with no other recourse but to support Brian's music career—resigned to the fact that "If you can't beat him, join him."

"I really appreciate the painstaking efforts of my dad to wean me away from music. He even toured me in several occasions to many parts of Europe where we spent time racing against each other in the Autoban," he added. They also enjoyed driving from Paris, France all the way to Rome, Italy, and then from Barcelona to Madrid, and finally from Madrid to Malaga in the region of Andalusia in Spain.

Yet, Brian revealed that all the traveling and jet-setting only reinforced his desire to write music rather than get his mind off it. His exposure in the magnificent European beaches—from Nice in the French Riviera, Monaco and in Malaga, Spain—only added inspiration to his craft influenced by New Wave artists.

A couple of months' back, the indie rock group Menaya produced and released an album called The Worst News, featuring edgy pop rock ditties with songs such as "Safer", "Happiness", "Everytime", "Idiom", and "Bakit Kailangan", the lone Tagalog piece in the 10-track plus one hidden track offering of high promise. Their music is now highly noticed by the rock community, particularly FM radio NU 107.

"Indie is more of a culture. It isn't even connected to the word independent but rather takes off from being the opposite or a rebellion against the mainstream comes in the equation because indies should be doing something different from what is usually offered," explained Brian in reference to the word 'rebellion' which some people tend to take with negative connotation. "We strongly believe that most of our followers listen to our kind of music as they themselves are 'indie artists' in their own right. In a way, we're trying to reach out to them as an attempt to connect with the hidden artist in all of us."

Completing Menaya's line-up are guitarist Mike Bacalzo, drummer Hepe Lavador and bass player Sherwyn Olivar. They all have a day job that they will have to give up eventually with more engagements after signing up with IMusic label for distribution by Universal Music.

While other indie people prefer taunting the mainstream players as sellouts, Brian is one indie guy who understands the trade and respects those who play it rather safe. Amazingly he is not someone boxed as an indie artist, but one with an open-mind who thinks that blending genres and styles can create a more exciting musical stage.

"Filipinos love great music and those who try winning in competitions," he asserted.

The Idol Experience: Ogie Sings with the Idols tickets are priced at P10,000 (already sold out), P3000, P2400, P1400, and P650. For more information, call Ticketworld at 891-9999 or Ticketnet at 911-5555 or TheUnderGround Studio at 376-2732.
ADVERTISEMENT - CONTINUE READING BELOW