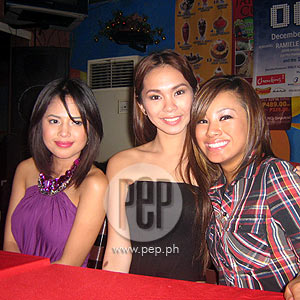 ---

She stands at a height of 4'11,she loves sinigang, and she's here to stay for three months. She'sRamiele Malubay, one of the finalists in American Idol Season 7, who isproud to have Filipino blood in her veins.

The morena singer was born in Damman, Saudi Arabia on September 6, 1987 toengineer Roger Malubay and nurseAlicia Macrohon Malubay. Shearrived last December 12 and went straight to Quezon province to bond with herrelatives before buckling down to rehearse for her upcoming concert.

Ramiele comes home to perform with singer-songwriter Ogie Alcasid for a two-night concert titled The Idol Experience: Ogie Sings With The Idols. The AI finalist will perform with GMA-7'sPinoy Idol Top 3 Ram Chaves, Jayann Bautista and Gretchen Espina and the other 9finalists. Indie rock outfit Menayawill serve as their front act during the concert slated for December20 and 21 at the Aliw Theater (8 pm).

During the December 14 press conference held at Danny's Grill along TimogAvenue, Quezon City, Ramiele narrated her fondest memories about thePhilippines.

Her parents toldher that she was only two years old when she started to sing. In an interview,her mother Alicia revealed, "When the adults sing karaoke, Ramiele would grab the microphone and attempt to followalong."

She was only four years old whenthe Malubay family, together with her younger sister May, immigrated to the US,settling in Miramar, Florida. From second grade until high school, she learnedhow to perform Hawaiian, Polynesian and traditional Filipino cultural dances.

Ramiele has also won awards in contests in Florida,beating native American singers. For established visiting Filipino singers,she's opened shows for Martin Nievera,Kuh Ledesma, Basil Valdez, Christopher De Leon, Christian Bautista, JerichoRosales, and Nonoy Zuñiga.

When the Gulf War broke out in 1990, it was the firsttime that Ramiele was sent to the Philippines to live with her grandparents.She previously spent time in her mother's hometown in Zamboanga and this year,she was able to see her father's hometown in Polillo island in Quezon province.


SOP EXPERIENCE. Ramiele admits that she felt more nervousperforming in the December 14 episode of GMA-7's SOP compared to her stint in American Idol."Honestly, mas nakakatakot dito. I grew up watching these amazing Filipinosingers so to be able to sing in the same stage with them, to share the samestage with them, nakakatakot. I feel like the Philippines is harder onyou when it comes to your singing. But it's good because it makes you[perform] better.

"Kuya Ogie is so nice, akala ko mane-nerbiyos ako kasi nakita ko sina Jaya,Janno [Gibbs], Regine [Velasquez]. I grew up watching them."

Even though Ramiele had her first exposure on the Kapuso Network, she clarifiesthat she has not yet received an offer from either GMA-7 or ABS-CBN.


AMERICAN IDOL EXPERIENCE. She was only 16 year old when she firstauditioned for AI Season 5 but she did not make it. At first, she wasdiscouraged but she continued to sing and win contests in Florida. Three yearslater, her dream came true.
ADVERTISEMENT - CONTINUE READING BELOW
Ramielewas on her third year in college, taking up BS Nursing at the Broward CommunityCollege when she auditioned and got accepted for
AI Season7
. Ramiele pointed out the lessons that shelearned during her stint in the reality singing show that hailed David Cook asthe winner.
"I'm not so much quiet now, kasi before I never got to pick my songs...oo langako ng oo. My dad told, 'pakabait ka' coz it was my first time to go alone. Itwas a learning experience while we were on tour. It comes to a point when youcan't just sit and be cute and be nice. You have to know when to speak up foryourself and you cannot let people walk all over you."
What can she say about feared
AI
judge Simon Cowell? "Ang bait niya.Nung na vote off ako, he told me, 'Come here and hug me.' Umiyak ako sashoulder niya. They're very, very supportive and nice."
The 21-year old singer then revealed that she has had the chance to personally meet JasmineTrias, a Fil-Am who landed in third place in
American Idol
Season 3."She's giving me pointers like be careful who you trust, look out for yourself,know your body..."
She says that she has always wanted to follow in the footsteps of Jasmine since she kept track of the career of the Hawaiian singer in the Philippines."Nakita ko yun [parade of Jasmine in Manila]. I was one of the fans sitting infront of the TV watching her."
When asked if she has any crush on a local celebrity, she said that the onlymatinee idols that she is aware of are Sam Milby and Piolo Pascual. But she isvery familiar with the hosts of GMA-7's variety show
SOP
.
Watch Ramiele perform with the
Pinoy Idol
finalists and
PI
judgeOgie Alcasid during their two-night concert.
The Idol Experience: Ogie Sings with the Idols
tickets are priced at P3000, P2400, P1400,and P650. For more information, call Ticketworld at 891-9999 or Ticketnet at911-5555 or TheUnderGround Studio at 376-2732.
Performances:
December 20 and 21, 2008
Venue:
Aliw Theater, CCP complex, Pasay City