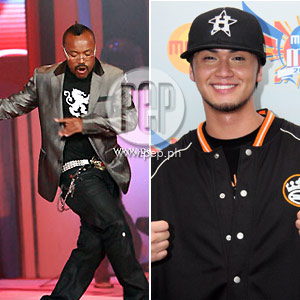 ---

The Fil-Am member of the Black Eyed Peas is back in thePhilippines to promote his solo album titled You Can Dream. Apl.de.Ap (whose real name is Allan Pineda Lindo) haschosen to collaborate with Billy Crawford for the song "You Can Dream," which isincluded in Apl's new album.

Last Saturday, January 3, Apl.De.Ap and Billy Crawford showed Filipinos hereand abroad their first collaboration titled "You Can Dream." The two singersperformed the song on ABS-CBN's noontime show Wowowee.

Billy and Apl alternately sang the lyrics of "You Can Dream" and during thechorus, Billy sang: Just close your eyes / remember those gray skies / just dryyour eyes / coz you can make it baby / you can dream / you can dream / you candream.
ADVERTISEMENT - CONTINUE READING BELOW
It also has a Tagalog portion with lyrics that go:Parang kailan lang / ang mga pangarap ko'y ay kay hirap abutin / dahil sa inyo/ napunta ako sa aking nais marating...
Earlier today, Apl graced the January 4 episode of
ASAP '09
to perform another cut from his new album. He againperformed the song "Island," which he first performed for Filipinos during theMYX Music Awards that took place in March 2008. He was joined by Sarah Geronimoand Billy Crawford during this energetic song-and-dance number that had thecrowd shouting wildly.
After his performance at
ASAP '09
, Aplasked for everyone's help in raising funds for the Apl Foundation. "Please supportus so we can help the children of the Philippines," he said.
Gary Valenciano, one of the hosts of show, described Apl as a man with a "pusongPinoy." Billy also expressed his admiration for the Fil-Am singer and said, "Itis such as pleasure to work with Apl. He is the most humble man I met in mylife."
Before leaving the Kapamilya show, Apl told viewers, "Maligayang Pasko atManigong Bagong Taon!"
In a previous interview, Apl told PEP (Philippine Entertainment Portal) that hewas inspired to write "Island" when he celebrated Christmas here in his motherland.Apl was born in Angeles City, Pampanga to a Filipina mother and an African-Americanfather. Allan was adopted by an American who took him to the United States whenhe was just 11 years old.
Several years later, the hiphop singer gives back to his community byspearheading the Apl Foundation, which aims to provide communities and childrenwith financial aid and awareness. According to the official website of thisgroup, a portion of the dollars raised will be reserved for disaster relief inthe event of natural and man made disasters within Asia.