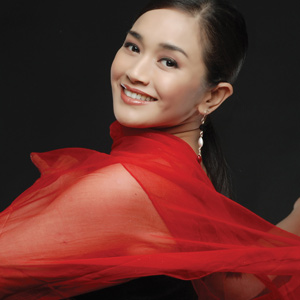 ---

After successfully starring as Maria in West Side Story in Manila and playing Christmas Eve in Avenue Q in London, West End's major star Joanna Ampil comes back to the Philippines to stage her first major solo Valentine concert. Dubbed as Joanna Ampil: I Love, this concert will take place on February 13 and 14, 2009, 8 p.m. at the Music Museum.

The show highlights the love songs of Joanna's impressive musical theater career from Miss Saigon, her very first musical in London to her most recent projects. These songs will also serve as musical parallels to the milestones of Joanna's life and career. It will present the many personae she's had to inhabit: from a fresh faced teenager, to a transplanted Filipina, to a working actress, not to mention the iconic roles she's performed through the years--Kim, Mary Magdalene, Eponine, Fantine, Mimi, and Maria, among others.

Joanna's Valentine concert promises to be an intimate evening with her audience. "I want it to be personal," she describes. "The repertoire will mainly be songs that have influenced and inspired me to do what I'm doing now, and from shows that I've done in the past but will be performed in a way that will tell my story and define me as a person on and off stage."

While it is noticeable that most of Joanna's character portrayals tell stories of sacrificial love, her most recent role as Christmas Eve has shown theater audiences her lighter side. "The character is outrageously wacky that I almost feel like I'm doing too much. In one of the scenes, I get to wear the most exciting costume I've worn in my history of musical theater, which makes me look like a Christmas tree, complete with flashing lights and the most vibrant colors. Just walking on stage with it makes people laugh without me uttering a word. I love it!"

On the other hand, the experience that Joanna had with West Side Story is something she will never forget. "It made me realize how much I love to perform in the Philippines," she points out.

Many people are curious as to who is the subject of affection of Joanna, and she only has one thing to say about this. "We can all be inspired by so many different things and people who have entered our lives. With or without the lucky man, the subject of my affection would be the different people who have touched my life in so many ways," says Joanna.

Moreover, Joanna gets her inspiration from personal life stories. "If I hear about someone's sacrifice or even the description of overpowering love brings tears to me," she confesses. "Anything extreme on the emotions, may it be joy, sadness, or excitement would definitely be a tear jerker." Hence from the many women characters that Joanna has portrayed, she finds Mary Magdalene as the ideal female lover. "It's because she's the one who had so much love to give, changed her lifestyle and humbled herself for the man she truly loved."

Even if Joanna has lived in Europe for almost half of her life, she's still a Filipino at heart. For her, the Filipinos are naturally romantic and the most loving people. "We tend to do things with so much passion," Joanna explains. "Even if at times, we are less technical, we do things according to what we feel in our hearts."

"It would be nice to spend Valentine's Day not just with one person," Joanna declares, "but an audience who would be genuinely interested in getting to know me and the work I have done."

Joining Joanna on her Valentine concert as a special guest is award-winning musical theater actor Franco Laurel.

The February 13-14 concert titled Joanna Ampil: I Love...is directed by Carlo Orosa.

Tickets are available at the Music Museum (Tel. No. 721-6726) and all Ticketworld outlets (Tel. No. 891-9999). Ticket prices: PhP 4,400, 3,300, 2,200 and 1,100.
ADVERTISEMENT - CONTINUE READING BELOW