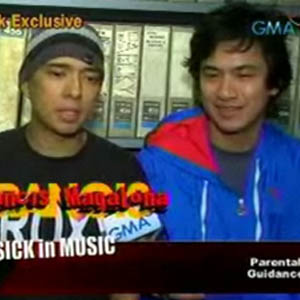 ---
Master Rapper Francis Magalona and Pupil frontman ElyBuendia collaborate for a cause. Currently working on an album called Sickos, the two have been recordingsince November 11, 2008.
How did the two musicians becomefriends?
"Matagal na kaming makaibigan," Francis told Startalk in a taped interview shownlast January 10. "Saka there's mutual respect at dati na talaga nagko-collaborate na kami, 1996, doon sa album ng Eraserheads before. And then,noong 2003, nag-tour kami sa States, kaming dalawa."
Ely added, "Matagal na kaming magkakilala, matagalna kaming magkaibigan."
Now here they are again working together, bound not only bytheir passion for music but by similar health issues. Ely has a heart condition while Francis is currently undergoing chemotherapy to fight leukemia.

"I really miss music and I miss performing," Francis said."Wala, excited ako. Gawin na natin ito. At noong kumanta kaming dalawa sa EatBulaga!, doon na nag-start."
It will be remembered that both Francis and Elyperformed live in Eat Bulaga! last October 25, their first performance sincegetting out of the hospital.
They have formed an understanding foreach other's plight and what they were going through.
"Kumbaga ako, ticking time bomb ako," explained Ely on hisheart condition, "at siya [Francis] naman on borrowed time. So, in that way,nagkakaintindihan kami. Matagal na kaming gusto talagang magsama, e. I'm justas excited as Francis. I'm excited for people to hear the album."
And how special is this album?
"I hope this serves as an inspiration sa mga taong who areundergoing the same problems that we have and it will show the world na let'snot make our sickness or our illness na magiging hadlang," said Francis. "Ihope that people will be able to appreciate the music that we create here.We're doing a couple of cover songs but we're also doing some originals."
"We're doing this for two reasons," Ely added. "Paratumulong kami sa fellow artists na tulad namin. And the second one is tocelebrate being alive and being able to play music. Si Francis, malakinginspiration ito for me. Most especially now that he's undergoing chemo and allthat."
ADVERTISEMENT - CONTINUE READING BELOW
Sickos is only thestart for the two artists. Following the album's release will be a foundation for the benefit of other artists.
"Meron na kaming name and logo. So, all we need is thesupport," explained Francis. "It is to help other artists who are sick andundergoing financial problems or who need hospitalization. Magkakaroon din ngmovie yung CD, a documentary movie about our lives and what happened to us."
Francis M. will undergo bone marrow transplant in one month.The good news is that Francis has a match with his sister.